Sun to strike NY streets in magical 'Manhattanhenge' 夕陽映照紐約街景 形成「曼哈頓巨石陣」美景
It is dubbed "Manhattanhenge" and happens semiannually when the sun aligns at dusk with streets in a glowing magic trick as rays of sunlight span across New York perfectly, from west to east.
"Manhattanhenge may just be a unique urban phenomenon in the world," says astrophysicist Neil deGrasse Tyson, of the American Museum of Natural History, who officially discovered the phenomenon.
The name "Manhattanhenge" is a play on Manhattan, this city's most famous borough, and Stonehenge, the megalithic monument in southern England with large stone blocks set out in concentric circles.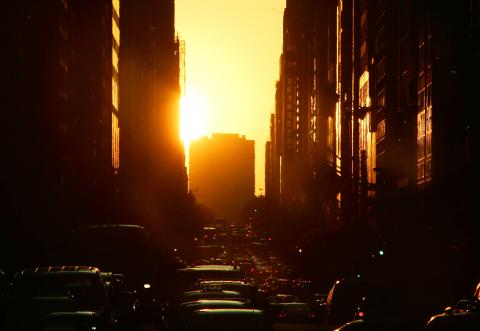 The sun sets on May 30, 2007 over the west side of New York City, known as Manhattanhenge, a term coined by an astrophysicist and inspired by Stonehenge. 這張二零零七年五月三十日攝於紐約市西區的照片,是日落時分的「曼哈頓巨石陣」。這個名稱是由一位天體物理學家所命名的,靈感來自(英國的)巨石陣。
Photo: AFP
照片:法新社
At Stonehenge, the sun crosses the site's central axis during the summer and winter solstices, leading experts to speculate that the site could have been used as a sort of sun calendar, as well as for religious ceremonies.
But in Manhattan, the phenomenon takes place before and after the summer solstices when at dusk but before sunset, the sun neatly matches up with the even-numbered streets running west and east, sending out fingers of light.
"As a kid I visited Stonehenge in the Salisbury Plain of England and did research on other stone monuments across the British Isles," deGrasse Tyson told AFP.
"So I was, in a way, imprinted by the emotional power that terrestrial alignments with the sun can have on a culture or civilization."
"Any city crossed by a rectangular grid can identify days where the setting sun aligns with their streets. But a closer look at such cities around the world shows them to be less than ideal for this purpose," he stressed.
DeGrasse Tyson first started thinking about the "Manhattanhenge" effect back in 1996. It was not until five years later, July 2001, that he took a photo of the sun-meets-skyscrapers display.
It and others were published in 2002 in a special edition of Natural History Magazine called "City of Stars," he said. And the effect began to become better known.
(AFP)
被命名為「曼哈頓巨石陣」的現象,一年只出現兩次,這是太陽日落角度,與曼哈頓棋盤街道對齊,完美貫穿紐約街頭,放射絢麗奇幻光芒。
美國自然歷史博物館天體物理學家尼爾‧德格拉斯泰森說:「『曼哈頓巨石陣』可能只是世上一個特殊的都會現象。」德格拉斯泰森也是此現象的正式發現者。
在紐約最負盛名的曼哈頓區內,「曼哈頓巨石陣」是該區上演的一齣劇。這名稱類似英國南部的巨石陣,這些巨石遺跡以同心圓排列。
太陽光在夏至與冬至正好穿越英國巨石陣的中心軸線,引起專家們做出預測,認為巨石陣可能被當作一種日曆與宗教儀式的用途。
但在曼哈頓,此現象發生於夏至前與後,日落前的黃昏,這個時間,太陽日落軌跡恰巧與紐約棋盤式東西向的偶數街道,不偏不倚地對齊,放射出指針般的光芒。
德格拉斯泰森告訴法新社說:「我小時候去過英國索爾斯堡平原的巨石陣,並對其他遍及不列顛群島的巨石遺跡做過研究。」
他說:「陸地與太陽軌道對齊的現象,從某方面來說,對於文明也扮演重要的角色,也就是這種撼動人心的力量,讓我銘記在心。」
他強調說:「只要有棋盤式道路的城市,太陽照射軌跡與街道對齊,就能得知今天是什麼日子。但細究世界上的這些城市會發現,這並非是個理想預測日子的方法。」
德格拉斯泰森早在一九九六年,首度想到「曼哈頓巨石陣」的現象。直到五年後,也就是二零零一年七月,他才用影像記錄太陽遇見摩天大樓的景象。
他說,這與其他標題為「星光之城」的攝影作品集,於二零零二年以特刊方式,刊載於《自然歷史雜誌》。自此之後,該效應更廣為人知。
(法新社/翻譯:林亞蒂)
Publication Notes
TODAY'S WORDS 今日單字
1. align v.
對齊 (dui4 qi1)
例: The various parts of the machine are not aligning properly.
(此機器多處零件未能適度對齊。)
2. speculate v.
預測 (yu1 ce4)
例: It's still too early to speculate about which candidate will win the election.
(現在預測哪位候選人會當選還言之過早。)
3. effect n.
效應 (xiao4 ying4)
例: What sort of effect do you think these changes will have in the near future?
(你認為這些改變會在不久的將來帶來什麼樣的效應呢?)
Comments will be moderated. Keep comments relevant to the article. Remarks containing abusive and obscene language, personal attacks of any kind or promotion will be removed and the user banned. Final decision will be at the discretion of the Taipei Times.