Japanese TV crew covers "twin well" in Taiwan 日電視台採訪新竹寶山雙胞胎井
Legend has it that drinking water from a well in Hsinchu County's Baoshan Township increases a person's chances of giving birth to twins. Hence dubbed the "twin well," the legendary well has attracted the interest of the Japanese television network TV Asahi. In order to prove the veracity of the legend for the network crew sent to Taiwan to cover the story, the Baoshan Township Office invited 38 pairs of twins to appear on the program.
Township chief Fan Yu-yen said the well was filled up eight years ago because of a road-widening project. However, local residents rushed to have it dug up again and rebuilt. While rebuilding it, a pair of cute stone figurines representing twins and a large traditional Chinese screen wall used for feng shui were both placed in front of the well. When it began being used again two years ago, 10 pairs of twins were invited to take part in a celebration.
Huang Chien-hsun, a gynecologist at Jhudong Veterans Hospital, said that giving birth to twins is mainly a matter of genetics, and that it is highly improbable that drinking water from the well would result in having twins. A more detailed demographic survey still needs to be done to see whether the rate of twin births in Baoshan Township is actually higher than in other areas in Taiwan.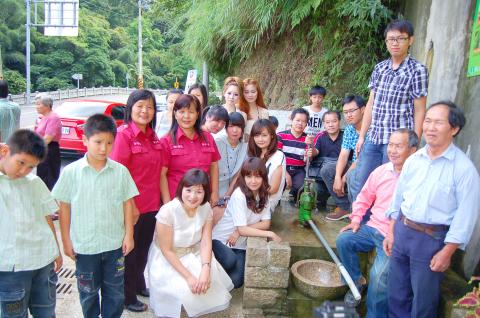 Twins gather in front of the "twin well" in Hsinchu County's Baoshan Township on July 2. 數對雙胞胎七月二日聚集在新竹縣寶山鄉的雙胞胎井前。
Photo: Huang Mei-chu, Taipei Times
照片:自由時報記者黃美珠
Fan said she was shocked to receive a phone call from someone in Japan saying they wanted to do a story on this well, and had no idea people in Japan had ever heard of the "twin well" in Baoshan Township. Since seeing is believing, Fan decided to invite dozens of twins born in Baoshan to be interviewed by TV Asahi's crew. The oldest pair of twins invited is already over 60 years old, while the youngest is only two months old.
(Liberty Times, Translated by Taijing Wu)
新竹縣寶山鄉有座井,相傳喝了井水就容易生出雙胞胎。人們因此稱它為雙胞胎井,而這個傳奇的井引起日本朝日電視台的興趣。為了給特別派人來台採訪的電視台證明傳說的真實性,鄉公所邀請了三十八對雙胞胎現身說法。
鄉長范玉燕說,這座井八年前因道路拓寬被掩平,後來地方人士積極奔走重新挖開修建,並在井口前做了一對代表雙胞胎的可愛小人兒石偶,以及修築了一大片風水用的照壁。二年前重新啟用時,還邀請了十對雙胞胎回來慶祝。
竹東榮民醫院婦產科醫師黃建勳說,生雙胞胎大部分和遺傳有關,因喝井水生雙胞胎的可能性不大。寶山鄉的雙胞胎比例是否比台灣其他地方高,要透過比較詳細的人口調查才能證實。
范玉燕說接到日本人說要來採訪的電話,也嚇了一大跳。她沒想到寶山這個雙胞胎井會紅到日本去,為了讓來採訪的日本記者「眼見為憑」,她約了數十對當地出生的雙胞胎接受電視台採訪。受邀的雙胞胎年紀最大的六十幾歲,年紀最小的才二個月大。
(自由時報記者蔡孟尚)
Publication Notes
TODAY'S WORDS 今日單字
1. legend has it that set phr.
傳說 (chuan2 shuo1)
例: Legend has it that Mazu, the goddess of the sea,
protects fisherman and sailors.
(傳說海上守護女神媽祖會保護漁夫跟水手。)
2. veracity n.
真實性 (zhen1 shi2 xing4)
例: The veracity of that statement is questionable.
(該說法的真實性是可疑的。)
3. demographic adj.
人口的 (ren2 kou3 de5)
例: Some of the demographic features of Taiwan include ethnicity, population density, and religious affiliation.
(台灣的人口特徵包括族群、人口密度,與宗教歸屬。)
Comments will be moderated. Keep comments relevant to the article. Remarks containing abusive and obscene language, personal attacks of any kind or promotion will be removed and the user banned. Final decision will be at the discretion of the Taipei Times.