Two Diana dresses sold for US$276,000 at auction 兩件黛妃禮服二十七萬六千美元賣出
Two dresses worn by the late princess Diana were sold at an auction house in Beverly Hills on May 8 for a total of US$276,000 (NT$7.9 million), the seller announced.
The two dresses, which have been held in climate-controlled storage since her death in August 1997, were auctioned to a prominent museum for US$144,000 (NT$4.1 million) and US$132,000 (NT$3.8 million), respectively, said Darren Julien, president and CEO of Julien's Auctions.
"We did have bidders from all over the world participating, and it's great to have them go to a museum where they are going to be on display and appreciated by the public," Julien said.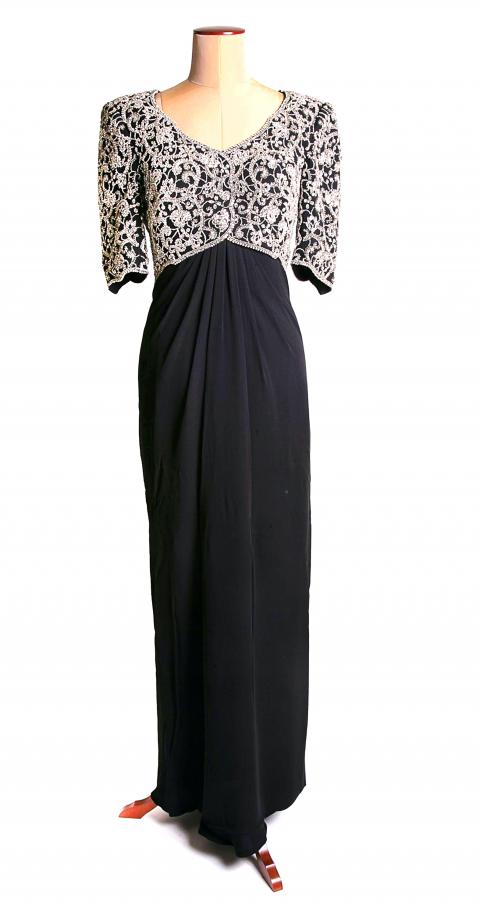 Princess Diana wore this black crepe evening gown during a state visit in 1992. The gown fetched US$144,000 (NT$4.1 million) at an auction in Beverly Hills, California on May 8. 黛安娜王妃一九九二年國事訪問期間,就是穿這件黑色縐綢晚禮服。這件禮服五月八日在加州比佛利山莊的一場拍賣會,以十四萬四千美元(約新台幣四百一十萬元)售出。
Photo: Reuters
照片:路透
According to Julien's auction house, the first dress — a black crepe evening gown with diamante paste embroidery on the short-sleeved top inspired by Indian motifs — went for US$144,000 (NT$4.1 million).
It was purchased for Diana's 1992 visit to India, when she accompanied her then-husband, Prince Charles on the trip.
The second dress — a light blue silk chiffon, strapless, floor-length gown and accompanying stole — was sold for US$132,000 (NT$3.8 million).
It was worn by Diana three times, including at the Cannes film festival in 1987.
Julien said he could not name the museum without permission from officials there. The name has been kept confidential.
(AFP AND REUTERS)
賣者宣布,兩件已故黛安娜王妃穿過的禮服五月八日於比佛利山莊拍賣會上,以總金額二十七萬六千美元(約新台幣七百九十萬元)售出。
朱利安拍賣公司總裁兼執行長達倫‧朱利安說這兩件禮服分別以十四萬四千美元(約新台幣四百一十萬元)與十三萬兩千美元(約新台幣三百八十萬元)賣給知名的博物館。這兩件禮服自黛妃一九九七年八月過世以來,就一直存放在控制溫濕度的儲藏室內。
朱利安說,「我們參與競標者來自世界各國,而讓這兩件禮服未來落腳於博物館是很棒的,因為這樣它們就會對外展示,讓大眾欣賞。」
根據朱利安拍賣公司,第一件以十四萬四千美元(約新台幣四百一十萬元)賣出,是一件靈感來自印度基調的黑色縐綢晚禮服,其短袖上衣黏有鑽石刺繡。
這件禮服是買來給黛安娜,在一九九二年偕同他當時的丈夫查爾斯王子展開訪問印度之旅所穿的。
第二件禮服以十三萬兩千美元(約新台幣三百八十萬元)賣出,是一件淡藍色雪紡綢、無肩帶、長度及地的禮服,並且搭配一條披肩。
這件衣服曾由黛安娜穿過三次,其中一次是一九八七年的坎城影展。
朱利安說,在尚未得到館內官員的同意,他無法透露是哪一家博物館,因此館名至今保密。
(法新社與路透/翻譯:林亞蒂)
Comments will be moderated. Keep comments relevant to the article. Remarks containing abusive and obscene language, personal attacks of any kind or promotion will be removed and the user banned. Final decision will be at the discretion of the Taipei Times.