Brazilian zoo name new regal tigers William and Kate 皇室熱 巴西動物園雙虎取名威廉與凱特
A Brazilian zoo signed off on their two new Bengal tigers and in a nod to their regal bearing named them William and Kate in honor of the royal wedding in England on April 29.
The big cats, a four-year-old male and five-year-old female, were acquired in a deal with an amusement park and arrived at the Rio zoo last Monday.
Authorities at the institution will be hoping the pair mate when they arrive at their new home, according to local press.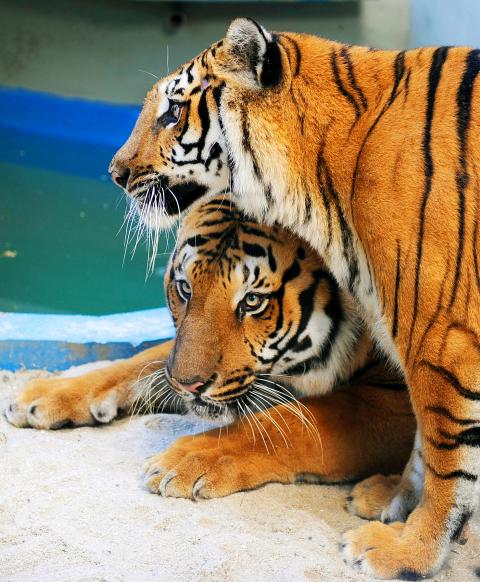 A couple of Bengal tigers lie in their cage at the Rio de Janeiro Zoo in Brazil on April 29. 一對孟加拉虎四月二十九日臥在巴西里約熱內盧動物園柵欄內。
Photo: AFP
照片:法新社
Rio's zoo, which at 66 years is the country's oldest, sprawls over an area of 138,000 m2 and houses over 2,000 reptiles, mammals and assorted birds.
Meanwhile, half a world away, Prince William and Kate Middleton were married at London's Westminster Abbey watched by some two billion viewers around the world.
(AFP)
巴西一座動物園批准給予一對新來的孟加拉虎,給牠們帝王級的待遇,並將牠們命名為威廉與凱特,好沾沾四月二十九日英國皇室婚禮的光環。
Photo: AFP
照片:法新社
這兩隻大貓,公的四歲、母的五歲,是與一座遊樂園的一項交易中得來的,並且在上週一抵達里約動物園。
根據當地新聞,此機構管理人員希望讓這對老虎在到達新家時交配。
里約的動物園已有六十六年歷史,是巴西歷史最悠久的動物園,腹地向外延伸十三萬八千平方公尺,園內有超過兩千隻爬行動物、哺乳類動物與各種鳥類。
在此同時,從巴西橫跨到地球的另一端,是威廉王子與凱特‧密道頓正在二十億人口的舉世矚目下,於倫敦西敏寺教堂完婚。
(法新社/翻譯:林亞蒂)
Comments will be moderated. Keep comments relevant to the article. Remarks containing abusive and obscene language, personal attacks of any kind or promotion will be removed and the user banned. Final decision will be at the discretion of the Taipei Times.