Michelin star for already closed French eatery 去年歇業法國餐館 今年米其林指南獲星
The latest edition of the world's top restaurant listing, Michelin's Red Guide, awards a consolation star to a tiny sea food joint that had already closed down for lack of customers.
Failed restaurateur Max Bichot heard about the award from a former employee after the publication of the renowned restaurant bible on Feb. 28, two months after he shut "Les Hetres" in the Norman fishing village of Ingouville.
"I'm happy, because it's an honor that lots of chefs covet, it's just a bit late," he told AFP ruefully.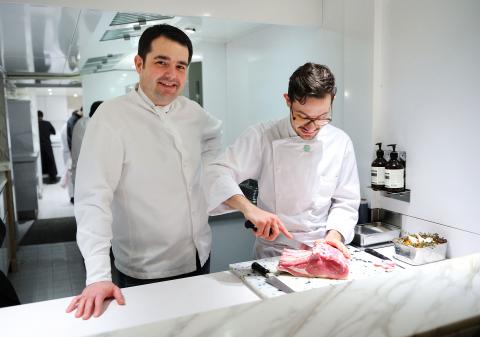 French top chef Jean-Francois Piege, left, poses in the kitchen of his brasserie, Le Thoumieux, in Paris, France on Feb. 28. Michelin awarded 2 stars for his just-opened 20-seat showcase above "Le Thoumieux." 法國一流廚師讓-法朗索‧皮亞傑(左)二月二十八日在法國巴黎的「圖米厄」餐廳的廚房留影。米其林給予皮亞傑在「圖米厄」餐廳樓上新開的二十人座餐廳兩顆星的評鑑。
Photo: AFP 照片:法新社
Michelin's feared inspectors must have visited Les Hetres last year, for they were delighted by Bichot's "baby mackerel in white wine and citrus juice" and his "red snapper fillet on a bed of ratatouille and rosemary."
Sadly, no-one else will get to share their experience, as the restaurant closed on Dec. 30 last year "because there weren't enough customers." Two chefs and two serving staff were laid off.
In 2001, Bichot's former restaurant "The Inn on the Cliffs" also closed suddenly, when the cliffs in question threatened to collapse. "I'm used to this kind of thing," he joked.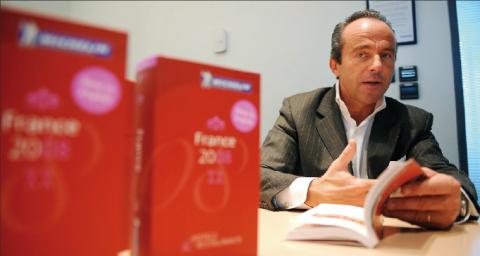 A file picture taken on March 7, 2008 in Paris, France, shows Jean-Luc Naret, president of Michelin Guides, presenting the "France 2008" gastronomical red guide. The 2011 guide was released on Feb. 28. 這張二零零八年三月七日攝於法國巴黎的檔案照,是《米其林指南》負責人尚-路克‧那黑正在介紹「法國二零零八」饕客紅色指南。二零一一年的指南於二月二十八日出版。
Photo: AFP 照片:法新社
So will his belated honor convince him to try again? Not immediately.
"I have had the great good fortune to fall in love with a woman who has a sea food restaurant in Yport, 'The Mermaid'. I'll help out in her kitchen, with no stress," he said.
(AFP)
最新出版的世界頂級餐廳名單─米其林《紅色指南》─頒發一顆星給一家海鮮小吃店以資鼓勵,不過因客源不足,此店已關門大吉。
在這本知名餐廳指南二月二十八日出版後,生意失敗的餐館老闆麥克斯‧畢修從他以前員工那裡得知這項獎勵,不過他位於安古維拉諾曼漁村的「櫸木」餐廳已在兩個月前就停業了。
他語帶辛酸地告訴法新社說,「我很高興,因為這是許多廚師夢寐以求的一項榮譽,只不過它來得有點晚。」
令人心生畏懼的米其林評鑑員一定已在去年造訪「櫸木」餐廳,並且吃了畢修的「幼鯖魚佐白酒與橙汁」以及他的「紅齧魚魚排襯以燉燜蔬菜與迷迭香」而感到愉悅。
很遺憾,不再有人能品嚐到他們所享用的美食,因為這家餐廳「因客源不足」,去年十二月三十日歇業。餐廳的兩位廚師與另外兩名員工也被解雇。
畢修之前開的餐廳「懸崖客棧」,二零零一年也因懸崖地形可能崩塌的疑慮而突然歇業。
所以,這遲來的榮譽會因此說服他東山再起嗎?沒那麼快。
他說,「我已有大好財富,那就是愛上一位在伊波爾開有一家「美人魚」海鮮餐廳的女人。我將毫無壓力地在她的廚房幫忙。」
(法新社/翻譯:林亞蒂)
Comments will be moderated. Keep comments relevant to the article. Remarks containing abusive and obscene language, personal attacks of any kind or promotion will be removed and the user banned. Final decision will be at the discretion of the Taipei Times.