What the year has in store: Rat and Ox 今年運勢:鼠和牛
Rat 鼠
People under the sign of the rat will experience both good and bad luck in the year of the rabbit. Money matters promise to be good, and academic success awaits them. They can also look forward to promotion at work. They should avoid arguments, and caution is advised before decisions are made. They are also advised to abide by the law and keep away from unhealthy practices. If they do this, they can turn bad luck into good.
屬鼠的你今年好事壞事互見,並且財源廣進,金榜題名,有機會升官。應當避免與人衝突,凡事得三思而後行。建議今年奉公守法,遠離任何傷害身體的人事物,就可逢凶化吉。
For 2011:
Money: Finances are looking up. Don't be afraid of a little hard work, and this will pay dividends in the end. You might meet someone who will promote you or give you a raise.
Love: Your love life promises to be stable, albeit with unforeseen twists and turns. The as-yet unmarried among you will be looking to tie the knot. It is important to have the courage to express how you feel, or you might miss your chance.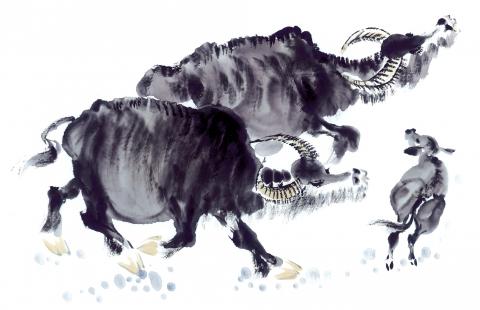 Health: Your health will remain stable, without any major illness. You have to avoid mishaps and going out late at night.
二零一一年的運勢:
財運:今年的財運比較好,只要不怕辛苦勞累,就會有收穫。今年可能遇到幫助你升職加薪的人。
愛情運:今年的感情雖然平靜,但是隱藏著波折。未婚男女可能想結婚,所以大膽表白很重要,否則將錯過良機。
健康運:今年健康情形穩定,沒有大病痛。必須防範意外事故,深夜盡量不要外出。
Ox 牛
The year of the rabbit will not go entirely smoothly for people under the sign of the ox, with problems originating from an organization or your family. Get your internal affairs in order before turning to external issues. Taking part in all kinds of social groups will bring you good luck.
屬牛的人在兔年有諸多不順。這些不順利多半來自於某個組織或自己家庭,所以面對外部事務時,必須先處理好內部事情。參加各種社團將帶來良好的運勢。
For 2011:
Money: Finances may well be precarious this year. Best to save money and not fritter it away. Invest with caution. Be careful with large investments.
Love: Your love life might be a tad rocky this year. Both men and women will be thinking their partner doesn't understand them. Be considerate, and try not to be overly critical of your other half.
Health: Health will be a worry for people born in the year of the ox this year. Beware of minor ailments and avoid losing your temper.
二零一一年的運勢:
財運:今年財運不理想,所以要多存錢,不可以浪費。投資時必須保守,大筆投資要很小心。
愛情運:今年感情方面欠和睦,無論男女都認為對方不夠了解自己。多關心對方,且不要太多指責。
健康運:屬牛的人兔年健康較差,必須留意小疾病,也要避免發脾氣。
Comments will be moderated. Keep comments relevant to the article. Remarks containing abusive and obscene language, personal attacks of any kind or promotion will be removed and the user banned. Final decision will be at the discretion of the Taipei Times.