China follows capsule hotel trend amid travel boom 旅遊旺 中國跟進膠囊旅館熱潮
China has followed Japan's lead in the capsule hotel market, amid an explosion of leisure travel in the world's most populous country.
The first capsule hotel in Shanghai opened on Jan. 8, less than a month before the Spring Festival holiday, when hundreds of millions of people crisscross the country to celebrate Lunar New Year with their families.
The hotel has 68 cabinet-sized rooms imported from Japan — where capsule hotels originated — each equipped with a power point, clock, light, television and wireless Internet, the China Daily said.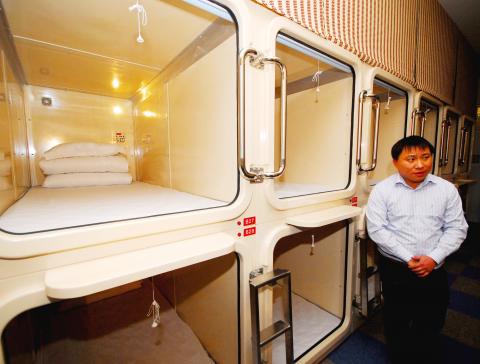 A worker presents a row of cabinet-sized rooms at China's first capsule hotel in Shanghai, China on Jan. 8. 這張一月八日攝於中國上海的照片,是一位工作人員展示一排中國第一批儲藏櫃大小的房間。
Photo: AFP 照片:法新社
The men-only hotel charges 68 yuan (US$10) for 10 hours or 88 yuan for 24 hours, the report said, citing Ta Zan, who owns the hotel and used to work for capsule hotels in Japan.
"This is a huge bargain compared with other budget hotels in Shanghai," Ta, 33, was quoted as saying.
The report said the budget hotel near the Shanghai Railway Station was the first capsule hotel in China to be built to international standards.
No one at the hotel could immediately be contacted for comment.
China's booming tourism industry was expected to host 2.1 billion domestic and international travelers last year, an increase of 12 percent over the previous year, according to previous industry estimates.
(AFP)
在休閒旅遊蓬勃發展之際,身為世界上人口最多的中國,也跟進日本首創的膠囊旅館市場。
為慶祝農曆新年,上億人與他們的家庭在中國境內四面八方旅行。在農曆新年的前一個月,上海第一家膠囊旅館在一月八日開幕。
《中國日報》報導,膠囊旅館源自日本,旅館有六十八間從日本進口約儲藏櫃大小的房間,每間房間都有電源插座、時鐘、燈、電視與無線上網等設備。
報導引用旅館負責人塔贊的話指出,限男賓入住的旅館十小時收費六十八元人民幣(約十美元),或二十四小時八十八元人民幣。塔贊曾經在日本的膠囊旅館工作。
報導引用三十三歲的塔贊的話指出,「相對於上海其他廉價旅館,這個價格更便宜。」
報導指出在上海火車站附近建造,並符合國際標準的膠囊旅館,是中國首見。
目前尚未有任何住客可供聯繫以了解他們的想法。
根據先前統計,中國蓬勃發展的觀光產業,去年帶來二十一億的國內外旅客,比前年成長了百分之十二。
(法新社/翻譯:林亞蒂)
Publication Notes
TODAY'S WORDS 今日單字
1. capsule n.
膠囊 (jiao1 nang2)
例: This medicine comes in capsule form.
(這項藥品被做成膠囊型態。)
2. crisscross v.
交錯 (jiao1 cuo4)
例: Countless people crisscross the square on their way to and from work.
(無數人群在工作往返途中的廣場交錯。)
3. budget adj.
廉價的 (lian2 jia4 de5)
例: Young people prefer budget travel.
(年輕人偏愛廉價旅行。)
Comments will be moderated. Keep comments relevant to the article. Remarks containing abusive and obscene language, personal attacks of any kind or promotion will be removed and the user banned. Final decision will be at the discretion of the Taipei Times.