Underworld hard man invents calligraphy technique 黑道大哥獄中練就空心立體書法
Wu Cheng-tsai, a former underworld hard man who spent almost 30 years behind bars, has emerged from prison adept at the art of calligraphy. The semi-literate Wu, also known as "Brother Tsai," received no formal calligraphy training, which made it easier for him to break away from traditional styles. He is the inventor of a style derived from traditional techniques known as "embossed-engraved" calligraphy, and claims to be the only practitioner of it.
Wu, 58, hails from Kaohsiung. He was the leader of a group of young hoodlums who hung around the "Yundong Bridge" (or literally "Reliable Bridge" in Hoklo) in Kaohsiung City's Cianjhen District, where he earned the moniker "Brother Tsai of Reliable Bridge." As a reckless youngster, he was first jailed at the age of 17, and it was not until last August that he finally completed his jail terms, serving almost 30 years in total.
While in jail, Wu met an inmate skilled in the art of Chinese calligraphy. Out of boredom, he took up the brush with the inmate and after years of practice, was able to write well in clerical script, regular script, and grass script. He even used his ingenuity to invent his own individual embossed-engraved calligraphy style.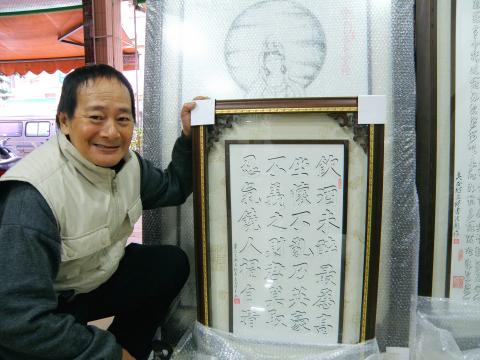 Wu Cheng-tsai, also known as "Brother Tsai," poses for a photograph with a sample of his embossed-engraved calligraphy in Kaohsiung County on Dec. 19. 「財哥」吳正財於十二月十九日在高雄縣與其書法作品合影。
PHOTO: LIBERTY TIMES, WANG JUNG-HSIANG 照片:自由時報記者王榮祥
Wu said he threw himself into embossed-engraved calligraphy from the word go. It took him more than a decade to invent more advanced versions, starting from engraved calligraphy, then going to embossed calligraphy, and then advancing to the fancy embossed-engraved calligraphy. In recent years, Wu has even studied stippling, a technique that uses shading and dots to create the appearance of texture.
After being released from prison last year, Wu happened to meet a policeman surnamed Lin. Lin was amazed by Wu's unique skills, especially given that his education ended at elementary school and was once an underworld hard man. Lin actively introduced Wu to others and recommended that he participate in exhibitions. Wu's work has drawn local attention, and even China-based Taiwanese business people are eager to invite him to put on exhibitions.
Ding Wei-an, who has a master's degree in calligraphy from National Kaohsiung Normal University and teaches at Kaohsiung's Lide Junior High School, said that no one else in the calligraphy world has learned so much about engraved calligraphy as Wu. Engraved calligraphy wasn't even considered a separate technique, and while Ding says he had heard of it before and believes that everyone can write it, it is not easy to excel at it.
Wu has been immersed in calligraphy for decades, but he is not just in a class of his own. With every character he writes, he learns more about the meaning of life and attains inner tranquility.
(LIBERTY TIMES, TRANSLATED BY LIN YA-TI)
坐牢近三十年,曾在社會叱吒一時的「財哥」吳正財,在獄中鍛鍊出一手靈巧毛筆功夫。識字不多的他未受過正統書法教育,卻因而擺脫制式教育體制,從傳統書法衍生出「空心立體」字型,號稱全台唯一。
吳正財58歲、高雄市人,年輕時曾是高市前鎮允棟橋(台語為穩當橋)一帶「大哥」,底下有過一群小弟,有人稱他「穩當橋財哥」﹔也因年少輕狂,財哥17歲就入獄,直到去年8月才服滿刑期,前後累計近30年牢獄生活。
在獄中,財哥認識一名懂中國書法的獄友,無聊之餘索性跟著拿起毛筆,持續多年竟練就一手好字,隸書、楷書、草書都能寫,他更發揮巧思,由傳統字體衍生出空心立體字型、自成一派。
財哥說,從剛開始嘗試立體空心字到駕輕就熟,前後費時十多年,且不斷有進階版,第一代為立體書法、第二代提昇至空心立體,接著再進化到花式空心立體,最近幾年還研究點畫。
去年出獄不久,財哥偶然間結識林姓警界人士,對方見識這位僅小學畢業、又曾是道上大哥的獨門技巧,遂積極協助引薦參展機會,作品引起地方注意,連中國台商都邀約展示。
高雄師大書法研究所碩士、高市立德國中老師丁韋安表示,目前書法界似乎沒人鑽研空心書法、也無此派別;他聽過空心字,認為空心字大家都能寫,但想寫得好並不容易。
財哥練習書法數十年,不但無人能及,而且字詞的書寫也讓財哥悟出很多人生道理,沉澱心靈!
(自由時報記者王榮祥)
Publication Notes
TODAY'S WORDS 今日單字
1. calligraphy n.
書法 (shu1 fa3)
例: The president's calligraphy demonstration was very well received.
(社長示範的書法非常受到歡迎。)
2. moniker n.
綽號 (chuo4 hao4)
例: Arnold has never been happy with the moniker he picked up in high school.
(阿諾從未對他在高中所選的綽號感到滿意。)
3. inmate n.
監獄犯人 (jian1 yu4 fan4 ren2)
例: Three out of four inmates complained about overcrowding in the prison.
(四分之三的監獄犯人抱怨監獄太過擁擠。)
Comments will be moderated. Keep comments relevant to the article. Remarks containing abusive and obscene language, personal attacks of any kind or promotion will be removed and the user banned. Final decision will be at the discretion of the Taipei Times.