US$11 million Christmas tree runs into trouble 一千一百萬美元聖誕樹惹來麻煩
A luxury hotel in Abu Dhabi which unveiled a Christmas tree decorated with jewels valued at US$11 million has decided to put the record straight against criticism of having gone over the top.
The Emirates Palace hotel said it regretted "attempts to overload the tradition followed by most hotels in the country," it said, in a statement quoted in Gulf News on Sunday.
"Putting the Christmas tree ... is a tradition meant to share in celebrating occasions guests hold while they are away from their home countries and families," said the hotel in the United Arab Emirates capital.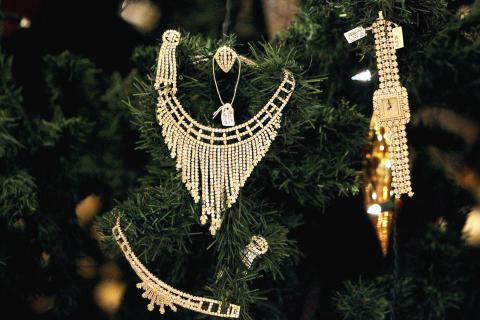 Items of jewellery hang on the branches of the 13m-high Christmas tree at the Emirates Palace luxury hotel in Abu Dhabi, United Arab Emirates, on Dec. 17, 2010. 十二月十七日,在阿拉伯聯合大公國首都阿布達比的酋長皇宮豪華飯店,各式珠寶吊掛在十三公尺高聖誕樹的枝幹上。
PHOTO: EPA 照片:歐新社
Under a headline of "Trouble over US$11 million Christmas tree," Gulf News said the hotel stressed this was "within the framework of the UAE's policy which is based on the values of openness and tolerance."
Emirates Palace stressed that the jewels were on loan from an Abu Dhabi gallery which had paid all the costs of making and decorating the tree. The jewels would be recovered by their owner at the end of the festive season.
"The hotel is just a venue for exhibiting the tree," it said.
The tree, inaugurated on Dec. 15, holds a total of 181 diamonds, pearls, emeralds, sapphires and other precious stones, said Khalifa Khouri, owner of Style Gallery which provided the jewellery.
Emirates Palace hotel general manager Hans Olbertz said the tree, which he described as the "most expensive Christmas tree ever," will probably be entered into the Guinness book of world records.
(AFP)
阿布達比的一家豪華飯店以價值一千一百萬美元(新台幣三億三千六百萬元)珠寶裝飾聖誕樹,引來外界「太超過」批評,飯店決定把事情說清楚。
《海灣新聞報》周日引述酋長皇宮飯店指出,飯店表示後悔「高調慶祝這個多數國內飯店也追隨的傳統。」
位在阿拉伯聯合大公國首都的酋長皇宮表示,「樹立耶誕樹…是一個傳統,目的是與賓客分享過節氣氛,讓他們遠離母國和家人時,也能過節。」
《海灣新聞報》一篇標題為「一千一百萬美元聖誕樹惹來麻煩」的文章指出,飯店強調此舉符合阿聯政策架構,提倡開放與寬容的價值。
酋長皇宮強調這些珠寶是從藝廊借來的,此藝廊已負擔所有裝飾聖誕樹的費用。在節慶之後,這些珠寶將物歸原主。
酋長皇宮表示,「飯店只不過是個展示聖誕樹的場所罷了。」
風格藝廊負責人卡里法‧庫里表示,這棵聖誕樹於十二月十五日首度露面,展示一百八十一顆鑽石、珍珠、綠寶石、藍寶石,與其他寶石。
酋長皇宮飯店總經理漢斯‧歐爾貝表示,這是「史上最昂貴的聖誕樹」,它也許能在金氏世界紀錄上留名。
(法新社/翻譯:林亞蒂)
Publication Notes
TODAY'S WORDS 今日單字
1. stress v.
強調 (qiang2 diao4)
例: The minister stressed the importance of reducing the deficit.
(部長強調減少赤字的重要。)
2. framework n.
架構 (jia4 gou4)
例: The new legal framework will increase protection of consumer rights.
(新的法律架構將提高對消費者權益的保護。)
3. inaugurate v.
開始 (kai1 shi3)
例: The president will inaugurate the new terminal next week.
(總統將在下周啟用一座新航站。)
4. sapphire n.
藍寶石 (lan2 bao3 shi2)
例: The sapphire on the ring is surrounded by diamonds.
(戒指上的藍寶石被鑽石包圍。)
Comments will be moderated. Keep comments relevant to the article. Remarks containing abusive and obscene language, personal attacks of any kind or promotion will be removed and the user banned. Final decision will be at the discretion of the Taipei Times.