Koxinga replica ship sets sail for round-island voyage 台灣船首航鹿耳門 重現歷史場景
On Dec. 4, 300 years after Ming Dynasty general Cheng Cheng-kung, better known as Koxinga, landed in Taiwan, the Taiwan Cheng Kung, a NT$100 million replica of his boat, set sail from Anping Harbor in Tainan City towards Luermen.
Tainan Mayor Hsu Tain-tsair presided over the launch, which was also attended by world famous film director Ang Lee. Lee, who is a graduate of National Tainan First Senior High School, said that Taiwan's modern history started from the moment Koxinga landed at Luermen, and it means a lot for him to witness such a historical moment in his hometown.
Hsu said the maiden voyage is one of the most important events to happen in Tainan for many years, and is a symbol of the city's unsurpassable cultural value as Taiwan's ancient capital. He hopes that Tainan's rich cultural heritage will attract tourists from all over the world.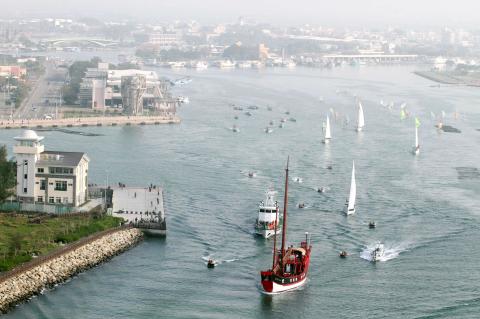 The Taiwan Cheng Kung, a replica of a ship used by Ming Dynasty general Cheng Cheng-kung when he landed on Taiwan 300 years ago, sets sail from Anping Harbor in Tainan City towards Luermen on Dec. 4, 2010. 十二月四日,一艘名為「台灣成功號」仿明朝鄭成功三百年前用以登陸台灣的古船,自台南市安平港出發前往鹿耳門。
PHOTO COURTESY OF TAINAN CITY GOVERNMENT 照片:台南市政府提供
To mark the 100th anniversary of the founding of the Republic of China, the Taiwan Cheng Kung will make a round-island trip before sailing to Japan's Nagasaki Prefecture, the birthplace of Koxinga. The boat will also go to Quanzhou in China's Fujian Province where Koxinga trained his troops, Kinmen, where his troops were stationed and Penghu, where he fought the Dutch.
Hsu said that when Koxinga's rule over Taiwan ended 300 years ago this kind of ship disappeared, which is why the voyage of the Taiwan Cheng Kung means so much. The Taiwan Cheng Kung was used for both commerce and battle, and when Koxinga landed at Luermen 300 years ago on a similar vessel, he changed the course of Taiwan's history.
The vessel is 29.5m long, 7.6m wide, and its mast is 28m high. Master carpenters from Taiwan and China were brought in to work on the ship, and Southeast Asian beech wood, meranti wood and teak wood were used on different parts of the ship.
Although the vessel relies mainly on wind power, it is fitted with a modern propulsion system. Tainan City government has already formed a sailing crew and recruited two experts from China to train them in readiness for their forthcoming voyage.(LIBERTY TIMES, TRANSLATED AND COMPILED BY TAIJING WU)
依照明朝台灣鄭成功時期復古造型、耗資億元打造的台灣船「台灣成功號」,十二月四日由安平港首航鹿耳門,重現三百年前鄭成功登陸開台歷史場景。
啟航典禮由許添財主持,知名導演李安一起登船見證。畢業於當地台南一中的李安表示,台灣的近代史是從鹿耳門開始,能在家鄉站在台灣船上見證歷史的一刻,意義深遠。
許添財曾表示,台灣成功號首航為府城百年大事,象徵的是文化古都的地位屹立不搖。並希望台南濃厚的文化可以吸引來自世界各地的觀光客。
明年為中華民國建國百年,這艘船將環島一周,之後航行到日本平戶鄭成功出生地、當年鄭氏用來練兵的福建省泉州、金門出兵地、以及跟荷蘭人交手的澎湖海戰地等等。
許添財說,鄭成功三百多年前結束在台灣的統治,這種船就消失了,所以這趟航程意義特別重大。台灣成功號為商戰兩用的船艦,鄭成功三百多年前就是搭乘這種船,於台南的鹿耳門登陸,改變了台灣的歷史。
這艘船全長二十九點五公尺,寬七點六公尺,主桅高度二十八公尺。打造這艘船動用了中國與台灣的木工師傅,船身分別使用南洋櫸木與台灣相思木、柳安木、柚木等,以製造不同部位。
雖然這艘船的主要動力是風力,但也有現代的輔助推進器。目前台南市已經組成操控船隻的團隊,也請了兩名中國專家訓練他們,以利往後船隻遠航。(自由時報記者洪瑞琴,台北時報吳岱璟彙整資料)
Comments will be moderated. Keep comments relevant to the article. Remarks containing abusive and obscene language, personal attacks of any kind or promotion will be removed and the user banned. Final decision will be at the discretion of the Taipei Times.