Russian town issues etiquette tips on bear encounters 熊出沒 俄城市公佈抗熊準則
Officials in a remote Russian city have drawn up a list of practical tips for locals on how to survive encounters with bears, after growing numbers have wandered into the streets in search of food.
The officials in the city of Syktyvkar in the northern Komi republic drew up the guidelines after several bears were spotted in the city, starving after a heatwave shrivelled nuts and berries.
The guide, a copy of which was acquired by AFP, warns that residents should stay calm and stand still if they meet a bear. "Speak to the bear in a firm voice," and "Don't turn your back on it," it adds.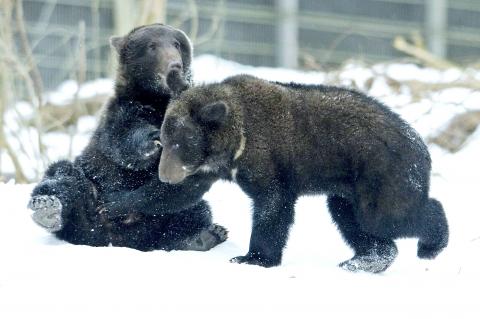 Brown bears Mischa, right, and Mascha, left, presents by Russian President Dmitry Medvedev, play in their snow covered enclosure at the animal park Daehlhoelzli in Bern, Switzerland, on Jan. 29, 2010. 一月二十九日,俄國總統德米特里‧梅德維傑夫贈送的兩頭熊,右邊的米夏與左邊的瑪莎,正在瑞士首都伯恩Daehlhoelzli動物園裡,覆蓋著雪的圈地中玩耍。
PHOTO: EPA 照片:歐新社
In the worst-case scenario, if the bear attacks, the victim should behave aggressively, the guide says. "Shout angrily at it and look it straight in the eyes," it advises.
"Bears have started coming into residential areas more and more often," the city authorities of Komi's regional capital of Syktyvkar said in a statement.
"Any encounter with a bear is unsafe for humans, so our task is to do all we can to prevent accidents."
In September, a bear mauled a 25-year-old man in a central street of the city, wounding him in the neck before he managed to flee, police said.
"Three or four civilian encounters with brown bears have been registered," the deputy head of the hunting department in the regional agriculture ministry, Alexander Arkhipenko, told AFP.
Police shot one bear after it wounded a man close to an infants' school in a city suburb, Arkhipenko said. Officials have asked police to patrol streets close to wooded areas in the evenings.
Syktyvkar is the regional capital of the remote Komi region in northwest Russia. Its population is just over 230,000.
(AFP)
俄國某城市因熊走出森林,並於市區遊蕩覓食而造成日益增多的市民遭熊襲,當局替居民列了遇到熊襲如何生存下來的準則。
俄國北部科米共和國瑟克特夫卡爾市市區發生數起市民遭熊襲事件後,便立下這些規定。熱浪使森林的堅果與莓果乾枯,以致於熊隻找不到食物。
根據法新社所獲得的該份準則,市民如果看到熊的時候必須冷靜站好。該規定還表示,「以堅定的口氣跟熊說話,且不得背對牠。」
該規定還建議,在最糟糕的情況,也就是熊採取攻擊的話,受害者必須採取有攻擊性的態度,應當「生氣的對熊大叫,並且直視著牠的眼睛。」
科米地方首府瑟克特夫卡爾市當局透過聲明表示,「熊近日越來越常進入住宅區。」
「任何與熊接觸的機會對人類都不安全,所以我們的任務就是盡一切可能防止意外。」
警方表示,九月份有頭熊在市中心街道攻擊並撕咬一位二十五歲男性,且在該男性成功逃跑前傷及他的脖子。
該區農業部守獵單位的副首長亞歷山大‧阿爾基奔科告訴法新社,「到目前已經有三或四起登記案件,都是市民遇到熊的事件。」
阿爾基奔科說,警方發現一頭熊於市郊的幼稚園附近,熊在傷害一位男性後遭警方射殺。官方人員要求警方夜晚時分在森林附近的街道加強巡邏。
瑟克特夫卡爾市為俄國西北部,偏遠的科米共和國首府。人口只稍微超過二十三萬。(法新社/翻譯:吳岱璟)
Comments will be moderated. Keep comments relevant to the article. Remarks containing abusive and obscene language, personal attacks of any kind or promotion will be removed and the user banned. Final decision will be at the discretion of the Taipei Times.