Boomerang to be tested in space 外太空測試回力標
A Japanese astronaut plans to throw a boomerang inside a space station. He wants to test how it can fly in zero gravity, an official said.
Astronaut Takao Doi, 53, is set to travel on a US shuttle in March to the International Space Station. He will be in charge of building a Japanese scientific testing room.
It is believed gravity is needed for a boomerang to fly back to the throwing spot, but no one has tried in zero gravity.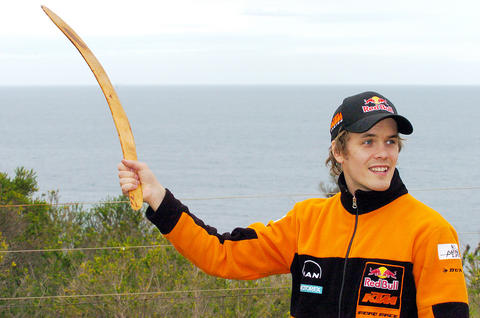 Mika Kallio of Finland throws a boomerang during an indigenous welcoming ceremony in the lead-up to the Australian Motorcycle Grand Prix, Phillip Island, Oct. 11, 2007. 去年十月十一日,芬蘭籍選手米卡.卡里歐於澳洲摩托車大賽前的一場原住民歡迎儀式上,丟擲回力標。照片:法新社
PHOTO: AFP
"Mr. Doi said he will personally carry a paper boomerang for the ... mission and we (think) he will try it when he has spare time," said an official of the Japan Aerospace Exploration Agency.
Doi decided to do the test after he was asked by Yasuhiro Togai. Togai is a world boomerang champion from the western Japanese metropolis of Osaka.
Togai is said to have trained Doi on how to throw the boomerang.(AFP)
日本一名官員表示,一名日本太空人計畫在太空站裡丟擲回力標,想要測試它在無重力狀態下如何飛行。
現年五十三歲的太空人土井隆雄預定三月份搭乘美國太空梭前往國際太空站,負責建造日本的科學實驗室。
一般認為,要有重力才可以讓回力標飛回丟擲之處,但到目前為止還沒有人在無重力狀態下做過試驗。
「土井先生說他會自行攜帶一把紙做的回力標參與這項任務,我們認為他會利用空閒時間做試驗,」日本宇宙航空開發機構一名官員說。
土井是受到住在日本西部大阪的世界回力標賽冠軍井靖弘請託,才決定做這項試驗。
據說,土井曾接受井靖弘的指導,學習如何丟擲回力標。(法新社/翻譯:楊鴻泰)
Publication Notes
TODAY'S WORDS 今日單字
1. boomerang n.
回力標 (hui2 li4 biao1)
例: Have you ever thrown a boomerang?
(你有丟過回力標嗎?)
2. zero gravity n. phr.
無重力 (wu2 zhong4 li4)
例: People float in zero gravity.
(人在無重力狀態下會漂浮起來。)
3. mission n.
任務 (ren4 wu4)
例: Your mission is to get Sam to school on time.
(你的任務就是準時地將山姆送到學校。)
4. metropolis n.
大都市 (da4 du1 shi4)
例: Taipei is a large metropolis.
(台北市一座大都市。)
Comments will be moderated. Keep comments relevant to the article. Remarks containing abusive and obscene language, personal attacks of any kind or promotion will be removed and the user banned. Final decision will be at the discretion of the Taipei Times.