Voting antics in Ukraine 烏克蘭千奇百怪的投票招數
Desperate Ukrainians went to surreal extremes on Sep. 30 in apparent attempts to influence a fiercely contested parliamentary election that has split the country. But it was unlikely the kidnappings, ballot box smashing or hit-and-run vote-stuffing would affect the poll, in which allies of the Western-leaning president are neck and neck with those of his Moscow-backed prime minister.
Two men in black drove a black Mercedes to a polling station in the southern region of Crimea and forced two election officials into their car, the RIA Novosti news agency reported.
They drove them to the edge of the town, "told them to behave themselves in a democratic manner and let them go," a police source told the news agency. The motive for the kidnapping was unclear.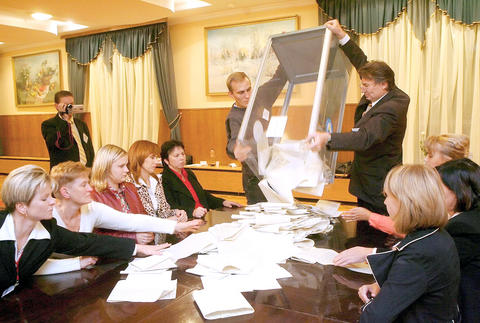 Local electoral commission members empty a ballot box in Kiev, Ukraine, early on Oct. 1 2007. 這個星期一在烏克蘭首都基輔,當地選務委員將選票從選票箱倒出來。
PHOTO: EPA
Meanwhile, in an unfortunate attempt to make his vote count, a man wanted for mugging in the Cherkassy region in central Ukraine went to the local police station to get a passport so he could cast a ballot, Interfax reported.
He was swiftly arrested.
Others decided to bypass the legal niceties and take direct action.
A woman in nearby Kirovgrad region grabbed a handful of ballots and stuffed them into a ballot box before running out of the station, Interfax reported.
And in the southern region of Crimea, a drunk arrived at a polling station and smashed a ballot box with his foot, a local official said, although it was unclear if he was hoping to affect the tallies.
"We are investigating if he did it on purpose or it was an accident," RIA Novosti quoted a police spokeswoman as saying.(AFP)
九月三十日,絕望的烏克蘭人採取荒誕不經的極端手段,試圖影響競爭激烈並導致國家分裂的國會大選。不過,無論綁架、搗毀選票箱,或是打帶跑作票策略,都不太可能影響大選的結果,親西方的總統陣營與莫斯科支持的首相陣營選情難分軒輊。
「俄羅斯國際新聞通訊社」報導,兩名黑衣人開著一輛黑色的賓士轎車來到烏克蘭南邊的克里米亞區的一間投票所,強行將兩位選務人員帶上車。
黑衣人將他們帶到城郊,「告訴他們要以民主的態度守規矩,然後放他們走,」警方告訴該新聞社。黑衣人綁架兩人的動機不明。
國際文傳電訊社報導,在同一時間,有一名在烏克蘭中部的車卡瑟地區行兇搶劫而遭警方通緝的男子,闖入當地的警察局搶奪護照好去投票。
這名男子立即被逮捕。
另外有些人決定繞過法律程序,直接採取行動。
國際文傳電訊社報導,附近的基洛夫格勒區有一名女子搶了一把選票,將選票塞進選票箱後,便逃出投票所。
此外,地方官員說,在克里米亞區有一名醉漢來到投票所,並用腳踢毀了一個選票箱,但並不清楚他是否想影響計票結果。
俄羅斯國際新聞通訊社引述警方發言人的話說:「我們正在調查他是故意這麼做,還是純屬意外事件。」
(法新社/翻譯:楊鴻泰)
Publication Notes
OUT LOUD 對話練習
Sam: I'm off to the polling station. Do you want to come too?
Sue: How are you getting there?
Sam: I'm going to walk. I think it'll take about 20 minutes to get there.
Sue: Nah, I can't be bothered. Anyway I don't really like any of the candidates.
Sam: Sue! You really ought to vote you know. It's not only a hard earned right, it's also your civic duty.
山姆:我要去投票所,你要一起來嗎?
蘇:你要怎麼去?
山姆:我要用走的,我想大概會花二十分鐘吧。
蘇:算了,太麻煩了。反正我本來就不喜歡那些候選人。
山姆:蘇!你真的應該要去投票。這不只是辛苦得來的權利,也是你的公民責任。
civic duty 公民責任
A civic duty or civic responsibility is something that you ought to do as a citizen. An example of a civic duty is serving on a jury.
「civic duty」或是「civic responsibility」指身為一個公民應該做的事情。其中一個公民責任的例子就是擔任陪審員。
Publication Notes
SAY WHAT? 說說看
neck and neck 並駕齊驅
The expression neck and neck comes from horse racing. When two horses are very close together in a race they are neck and neck with each other.
A similar expression is dead heat. Dead heat also comes from horse racing and describes a situation where it is difficult to determine who has won. For example: "The elections have been pretty exciting this time round. It looks like a dead heat between the pink party and the yellow party."
「neck and neck」這個片語源自於賽馬運動。當兩匹馬在比賽中跑得非常接近時,牠們就是不分上下。
類似的片語有「dead heat」,也是源自於賽馬運動,用來描述難以判定勝負的情況。例如:「這次選舉選情一直相當激烈,粉紅陣營和黃陣營之間似乎難分軒輊」。
Publication Notes
TODAY'S WORDS 今日單字
1. surreal adj.
荒誕不經的 (huang1 dan4 bu4 jing1 de5)
例: The play was rather surreal to say the least.
(簡單地說,這齣劇非常荒誕不經。)
2. ballot box n.
選票箱 (xuan3 piao4 xiang1)
例: All ballot boxes must be sealed by 8pm.
(所有選票箱必須在晚上八點前封箱。)
3. polling station n.
投票所 (tou2 piao4 suo3)
例:What time does the polling station close?
(投票所什麼時候關?)
4. mugging n.
行兇搶劫 (xing2 xiong1 qiang3 jie2)
例: It's best not to walk in the park late at night -- there are often muggings there.
(深夜最好不要在公園裡遊蕩,那裡常常發生行兇搶劫。)
Comments will be moderated. Keep comments relevant to the article. Remarks containing abusive and obscene language, personal attacks of any kind or promotion will be removed and the user banned. Final decision will be at the discretion of the Taipei Times.