Ship to house homeless? 廢船變身遊民收容所?
Many retired Navy ships have been turned into museums, but community groups here are hoping for what military officials say is a first: turning a decommissioned vessel into a floating homeless shelter.
The 195m destroyer tender Acadia was built in 1981 and sailed around the world several times with a crew of 1,500 before it was decommissioned in 1994. In January, Navy officials decided to dispose of, sell off or give away the vessel, which is docked at Pearl Harbor. Most ships are used for scrap or training after they are retired.
"Land is a high commodity. We live on a rock," the Rev. Gary Shields, director of the Victory Ohana Prison Fellowship, told The Honolulu Advertiser. "Hawaii has to do something different and out of the box. And this is out of the box."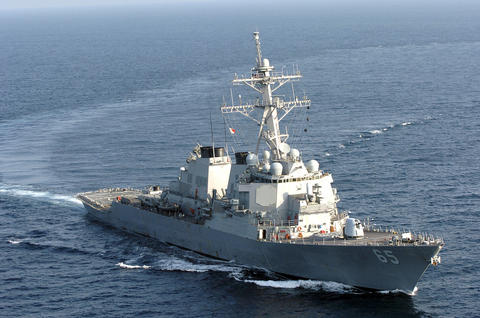 The guided missile destroyer USS Benfold maneuvering in the Andaman Sea in 2005.PHOTO: AP 美國導彈驅逐艦班佛號二00五年在安達曼海進行演習的情形。照片:美聯社
A coalition called the Acadia Acquisition Committee is negotiating with the state for a place to put the ship. Its proposal calls for Acadia to start housing people as early as May 2009.
Organizers are trying to determine how much the program would cost but are expecting to spend US$2 million (NT$66.3 million) just to get the ship ready for basic accommodations such as air conditioning, revamped bunks and bedrooms.
Homelessness is a growing problem in Hawaii, as low-income families face some of the highest living costs in the nation. The number of unsheltered homeless counted at seven areas on Oahu in January was 3,750, up 28 percent from a year ago. (AP)
許多除役的海軍船艦常被改裝成博物館,但這個地方的社區團體希望創下如軍方所說的創舉︰將一艘退役船艦改裝成海上遊民收容所。
長一百九十五公尺的驅逐艦「阿卡迪亞號」建造於一九八一年,它曾載著一千五百名船員環遊世界數周,最後於一九九四年退役。海軍官員在一月份決定將停在珍珠港的這艘船棄置、出售或送出。大部分的退役船艦都會被當成廢料,或用於訓練工作。
「這裡土地很珍貴,因為我們住在一塊大礁石上,」Victory Ohana監獄更生團契的領導人蓋瑞:孝茲牧師對《檀香山廣告商報》說。「夏威夷得做點與眾不同的事,跳脫既有的框架。而這就是打破傳統的計畫。」
一個叫「阿卡迪亞號取得委員會」的聯盟正在和該州協商泊船的地方。它提出的計劃書希望該船最快從後年五月開始收容民眾。
規劃者正在評估該計劃要花多少錢,但預計光是基本的住宿設施,例如冷氣、翻新多層床舖、臥室等就要兩百萬美元(約新台幣六千六百三十萬元。)
無家可歸的情形在夏威夷越來越嚴重,因為當地低收入戶面臨全國最高的生活消費。歐胡島上的七個區域,一月份的遊民人數達三千七百五十人,比前一年高了28%。
(美聯社/翻譯:張愛弟)
Publication Notes
Today's Words 今日單字
1. decommissioned adj.
退役 (tui4 yi4)
例: There were several decomissioned tanks on display.
(好幾輛除役坦克正在展示中。)
destroyer tender n.
驅逐艦母艦 (qu1 zhu2 jian4 mu3 jian4)
例: A destroyer tender provides maintenance for destroyer ships.
(「驅逐艦支援母艦」為其他驅逐艦提供維修補給支援。)
3. commodity n.
商品 (shang1 pin3)
例: The townhouse my gran left me is a great commodity.
(祖母留給我的連棟屋很有價值。)
4. revamp v.t.
翻新 (fan1 xin1)
例: We've decided to revamp the sitting room.
(我們決定要翻新起居室。)
Publication Notes
SAY WHAT? 說說看
out of the box
跳脫既定的框架
Saying that someone needs to do something out of the box means that he or she needs to try something not normally tried.
Often people are urged to think outside of the box. This means that they should try to use their imagination and skills to see beyond the rather limited view that their education or society may have imposed on them.
說某人做事情需要「out of the box」,這表示他/她需要嘗試平常不會去做的事。
人們常被鼓勵「think outside of the box(跳脫既定思維的框架)」,這表示他們應該運用想像力和技巧,去打破教育或社會所加諸的狹隘觀點。
Publication Notes
OUT LOUD 對話練習
Sally: Did you hear about the plan to house homeless people on a ship in Hawaii?
Amy: No. What kind of a ship?
Sally: An old Navy one. The Navy will donate it.
Amy: Well, that's an excellent plan. How sensible!
Sally: Unless you suffer from seasickness of course. Then it'd be a different story.
莎莉:妳聽說了夏威夷用船當遊民收容所的計劃沒?
艾咪:沒有耶!什麼樣的船?
莎莉:是艘舊軍艦,海軍捐贈的。
艾咪:唔…好棒的計劃,也非常明智!
莎莉:當然啦!除非你會暈船,那就另當別論。
a different story 另一種情況
You can say that something is, or will be, a different story if key facts or circumstances have changed or may change.
當某件事主要的事實或情況已經或可能會改變,你就可以用「a different story」來表示它的發展也許會有所不同。
Comments will be moderated. Keep comments relevant to the article. Remarks containing abusive and obscene language, personal attacks of any kind or promotion will be removed and the user banned. Final decision will be at the discretion of the Taipei Times.