Trinidad and Tobago 千里達及托貝哥
Tourists to Trinidad and Tobago who are looking for a party should go to Trinidad,
the larger and more bustling of the country's two main islands; but those looking
to relax should go to the smaller, more relaxed Tobago.
到千里達和及托貝哥想要狂歡一下的遊客應該選擇千里達島,那裡面積較大、
也比較熱鬧;想要放鬆一下的遊客則可以前往面積較小,也較悠閒的托貝哥島。
Closer look:
"If Trinidad is the energetic heart of these islands, Tobago is its serene soul," reads the country's main tourist Web site.
Columbus learned of Trinidad during a voyage in 1498. Soon the Spanish colonized Trinidad, and the aboriginal population was virtually wiped out. Tobago was claimed by a number of European countries following Columbus' voyage, and both islands were under British control by 1814.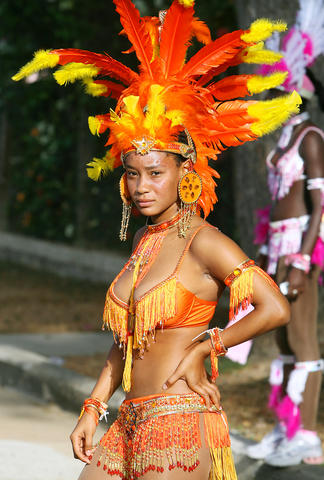 A woman in a traditional costume in Port of Spain, March 17, 2007. 今年三月十七日,一名婦人身著千里達傳統服飾於西班牙港。
PHOTO: AFP 法新社
Slaves from Africa were brought to Trinidad and Tobago to work the cane fields until the abolition of slavery in the mid-19th century. Many Afro-Trinis began to move to urban areas, and Indians (from South Asia) were brought over to work the fields as indentured slaves.
Trinidad and Tobago gained independence from Britain in 1962. Today about 40% of the population is Indian, 37.5% African and the rest either mixed or of different races. The Afro-Trinis and Indo-Trinis generally live in peace, but politically the two groups are very separate.
In 2004, racial disharmony led to violence in the House of Parliament when Indo-Trini MP Chandresh Sharma referred to Afro-Trini MP Keith Rowley as a racist. Dr. Rowly responded by throwing a teacup at Mr. Sharma in an event that is now referred to as the "teacup brawl."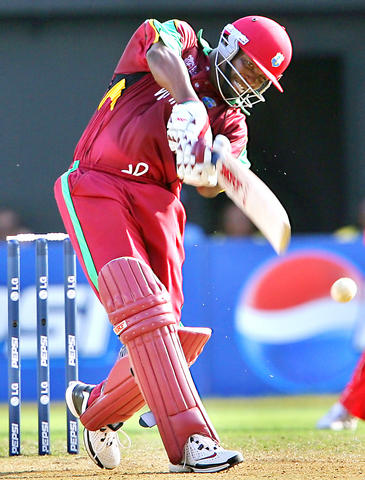 Trinidad and Tobago native and cricket legend Brian Lara in Kingston, Jamaica, March 19, 2007. 千里達扥貝哥國內板球傳奇布萊恩.勞拉今年三月十九日攝於牙買加京斯敦。
PHOTO: AFP 法新社
The stressful environment of Trinidad might have been getting to both Dr. Rowley and Mr. Sharma. Perhaps they should try going to Tobago to relax.(Michael Kearney, Staff Writer)
「如果說千里達是這個國家充滿活力的心臟的話,那麼托貝哥就是國家安穩的心靈,」千里達托貝哥觀光局的官方網站如是說。
哥倫布在一四九八年的航行中發現了千里達島。不久之後,西班牙就殖民千里達島,當地原住民幾乎都被消滅殆盡。歐洲許多國家也隨著哥倫布的腳步,爭相佔領了托貝哥島。到了一八一四年,兩島都成為英國統治下的殖民地了。
英國人從非洲引進奴隸到千里達和托貝哥的甘蔗田工作。直到十九世紀中,黑奴制度廢除後,許多非裔千里達人開始移往市區,(來自南亞的)印度人則被引進當作契約奴工。
千里達和托貝哥在一九六二年脫離英國殖民獨立。今天,當地人口約百分之四十為印度裔,百分之三十七點五為非洲裔,其餘有些是亞非混血或其他種族。非裔千里達人與印度裔千里達人大致上和平共處,但雙方在政治上卻壁壘分明。
二OO四年,因為印度裔議員錢德瑞許.沙馬指稱非裔議員凱斯.羅力是種族主義者,羅力於是朝沙馬扔擲茶杯,這就是「茶杯口角」事件。
身處千里達這個充滿壓力環境中的羅力議員及沙馬議員,也許應該到托貝哥去放鬆一下。(翻譯:袁星塵)
Publication Notes
A LOOK AT CONTEXT 思前想後猜字義
1. Tokyo is one of the most bustling cities in the world.
Bustling means …
a. big and dangerous.
b. interesting and thoughtful.
c. quiet and slow.
d. exciting and lively.
2. Orchid Island is a very serene place.
Serene means …
a. never discovered.
b. unaffected by disturbances.
c. unpolluted.
d. small and clean.
3. African Americans still faced a great deal of discrimination following abolition.
Abolition is …
a. doing away with something (especially slavery).
b. reinstating something (especially slavery).
c. ending something (especially drug use).
d. redoing something (especially drug use).
4. Many indentured slaves died from disease before they had served their full contract and could be freed.
An indentured slave is …
a. a person bound to work for another by contract.
b. a person who works for another under poor working conditions.
c. a person who works for very low pay.
d. a person forced to work in the family business.
ANSWERS: 1. d 2. b 3. a 4. a
Publication Notes
WHO KNEW? 你知道嗎?
Caribbean beats rumbling through the streets reveal the importance of music to life in Trinidad and Tobago, home of calypso, soca and the steel pan.
Calypso was invented at the start of the 20th century. It developed out of music used by Afro-Trinis who, not allowed to speak to one another, had to communicate through song.
Soca is a kind of dance music formed by adding persistent beats to calypso music. It mirrors the islands' two major ethnicities by combining Afro-Trini calypso music with Indian rhythms.
The steel pan was invented in the 1930s by Afro-Trinis who were desperate to express themselves through music but didn't have the money to purchase musical instruments. Using old steel drums, they invented an instrument that is now played around the world.
加勒比海式的擊鼓在街上隨處可見,音樂在千里達托貝哥人生命中的重要性可見一斑。這裡是諷刺即興歌曲卡里布索、現代流行歌曲索加和鋼鼓的家鄉。
卡里布索起源於二十世紀初。當時因為規定非裔千里達人不能用言語交談,只得透過歌曲溝通,因此發展出了這種特殊的音樂型態。
索加是一種在卡里布索中加入持續性節奏的舞曲。藉由結合非裔居民的卡里布索音樂和印度的節奏,反映出當地兩大族群的特色。
鋼鼓在一九三O年代出現,由於當時非裔居民極度渴望用音樂來抒發情感,卻沒有足夠的經費添購樂器,只好利用舊的鋼鍋來當作樂器敲擊。現在,這種特殊的樂器已普遍在世界各地使用。
Publication Notes
ABOUT TRIN. AND TOB. 國家概況
ABOUT TRIN. AND TOB. 國家概況
Size: 5,128km2. Taiwan is about seven times the size of Trinidad and Tobago.
Location: the Caribbean
Border countries: none, but it's northeast of Venezuela
Capital: Port of Spain
Population: 1,056,608
Languages: English (official), Caribbean Hindustani, French, Spanish and Chinese
Government: parliamentary democracy
Currency: 1 Trinidad and Tobago dollar is about NT$5.26
面積:5,128平方公里,約為台灣的七分之一大
位置:加勒比海
鄰國:無,但在委內瑞拉東北方
首都:西班牙港
人口:一百零五萬六千六百零八人
語言:英語(官方語言),加勒比海印度斯坦語、法語、
西班牙語及中文
政體:議會制
貨幣:一千里達幣約等於新台幣五點二六元
Comments will be moderated. Keep comments relevant to the article. Remarks containing abusive and obscene language, personal attacks of any kind or promotion will be removed and the user banned. Final decision will be at the discretion of the Taipei Times.