Rent a Rover 寵物出租
From the state that popularized drive-thru dog washes comes the latest in canine convenience - a company that contracts out dogs by the day.
Marlena Cervantes, the founder of FlexPetz, bristles when people refer to her business as a rent-a-pet service. She prefers the term "shared pet ownership," explaining the concept is more akin to a vacation time share than a trip to the video store.
"Our members are responsible in that they realize full-time ownership is not an option for them," said Cervantes, 32, a behavioral therapist.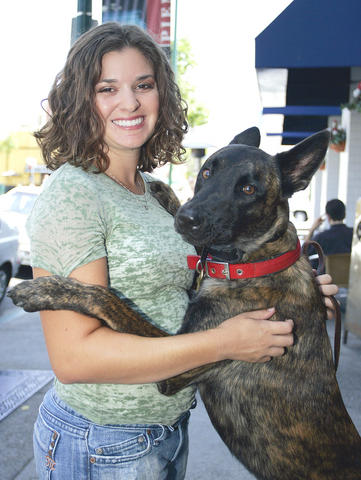 Shari Gonzalez poses with Loki, a dog rented out by FlexPetz, in San Diego, California, USA, July 26, 2007. 莎莉•岡薩雷斯與她從彈性寵物飼養FlexPetz租養來的狗Loki於七月二十六日在美國聖地牙哥的合照。
PHOTO: AP
FlexPetz is currently available in Los Angeles and San Diego. Cervantes plans to open a new location this month in San Francisco.
Shari Gonzalez said she was thinking about getting a dog when a dog trainer suggested part-time ownership. At first, she had reservations.
"I was thinking, 'How is a dog going to bounce from house to house and be OK with that?'" she said.
Her misgivings were allayed after she spoke with Cervantes, who explained that only dogs with suitable temperaments were picked for the program.
Since signing up, Gonzalez said a black Lab named Jackpot has become a treasured part of her social network. They spend an average of one day each weekend together.
Melissa Bain, a veterinarian at the University of California at Davis, said she had concerns but no hard-and-fast objections to a service like FlexPetz.
Advantages include giving people who might want to own a dog a chance to test the waters, Bain said. A possible downside would be irresponsible members.
"It depends on the people and it depends on the animal. Some dogs may be fine and some may become stressed," Bain said.
炒熱得來速洗狗服務的美國,現在又有最新的關於狗的好康:寵物出租。
彈性寵物飼養FlexPetz的創辦人瑪琳娜: 賽凡提斯對於有人把她的事業稱作為寵物出租服務感到不悅。她偏好使用「分享寵物飼養」的字眼,因為這樣比較類似分享假期的概念, 而非只是到影音出租店。
這位三十二歲的行為治療師賽凡提斯說:「我們的客人都很負責任,因為他們知道長期飼養寵物不是他們的選擇。」
彈性寵物飼養FlexPetz目前服務區域包含美國洛杉磯與聖地牙哥。這個月,賽凡提斯將在舊金山增設一個新據點。
莎莉:岡薩雷斯說 她想過要養一隻狗,但有一位馴狗師建議她可以考慮彈性養狗。剛開始,岡薩雷斯對此持保留態度。
她說:「我當時想『一隻狗如何從一個家換到另一個家,並適應這種模式?』」
在與賽凡提斯談過後,剛薩雷斯的擔憂減輕了。賽凡提斯跟她解釋只有性情合宜的狗才會入選在此服務內。
從參與至今,剛薩雷斯說有一隻黑拉布拉多犬Jackpot已經成為她社交網絡很珍貴的一部份。
一位加州大學戴維斯分校的獸醫師瑪麗莎:貝恩說她對這項服務心存憂慮,可是她並沒有堅決反對類似彈性寵物飼養FlexPetz的服務。
貝恩說這類服務的好處包括給一些想養狗的人一個體驗養狗的機會。缺點是怕遇到不負責任的客人。
貝恩說:「要看是什麼樣的人與什麼樣的狗。有一些狗可能可以相安無事,但有些卻可能會變得焦慮。」
(美聯社/翻譯:林亞蒂)
Publication Notes
TODAY'S WORDS 今日單字
1. canine adj.
犬科 (quan3 Ke1)
例: Spot has been my canine buddy for five years.
(小花已是我的狗夥伴五年了。)
2. bristle v.i. /v.t.
發怒 (fa1 nu4)
例: She bristled at the suggestion that he take a vacation.
(她對於他去渡假的建議感到不悅。)
3. reservation n.
保留 (bao3 liu2)
例: The lawyer has reservations about climbing Mt. Everest.
(這位律師對爬阿爾卑斯山持保留態度。)
4. allay v.t.
減輕 (jian3 qing1)
例: The instructor allayed my fears about jumping off the boat.
(教練減輕我的對於跳下船的恐懼。)
Publication Notes
SAY WHAT? 說說看
test the waters 試水溫
To test the waters means to float an idea around or try something out before becoming too involved. The phrase comes from the literal meaning of a swimmer using his or her toe or finger to test the temperature of water before jumping in.
Test the water could also be used without changing the meaning.
A noun phrase that could be used to refer to a situation that is being tested is test run. For example, "Sandra is going to take the car for a test run."
「to test the waters」意思是在投入一件事物以前,先懸著一個想法或是嘗試一些事情。這個片語字面上的意思源自游泳者在跳入水中之前,先用他的腳趾或手指來試探一下水溫。「test the waters」也可以使用,意思不變。
名詞片語「test run」可以用來表示一個被試驗過的狀態。例如:「姍卓正要去取車來試車。」
Publication Notes
OUT LOUD 對話練習
Seymour: Where have you been, Victor?
Victor: I haven't left the house because I've been as sick as a dog.
Seymour: What did you come down with?
Victor: First I had a case of the flu and then I came down with the chicken pox. It really wasn't a good week for me.
Seymour: It sure sounds that way. I'm glad you're up and about now.
西摩兒:你到哪兒去了,維客多?
維客多:我一直都沒有離開這房子,因為我病得很厲害。
西摩兒:你是怎麼生病的?
維客多:我起先是感冒,然後又得的水痘。這個星期真是夠受的。
西摩兒:聽起來真的就像你說的。我很高興你現在痊癒了。
as sick as a dog 病得很厲害
Someone who is as sick as a dog is very ill. For example, "Raul went to Mexico for spring break and came down with typhoid fever. He was as sick as a dog for weeks."
形容某人「as sick as a dog 」代表此人病得很厲害。例如:「魯爾春假到墨西哥,並染上傷寒。他大病了好幾個禮拜。」
Comments will be moderated. Keep comments relevant to the article. Remarks containing abusive and obscene language, personal attacks of any kind or promotion will be removed and the user banned. Final decision will be at the discretion of the Taipei Times.