A paw-print vote 狗狗投票
A dog has been taken off voter rolls after receiving absentee ballots for three elections, said officials in King County, Washington, USA.
Elections Director Sherril Huff said she has cancelled voter registration for Duncan M. McDonald, the Australian shepherd-terrier mix owned by Jane K. Balogh.
Balogh, 66, registered her pet to protest a change in the law that she said made it too easy for noncitizens to cast ballots.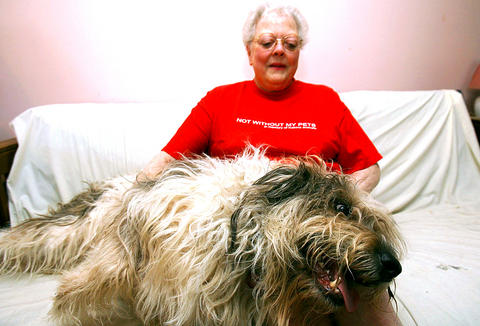 Jane Balogh with her dog Duncan in Washington, USA, June 25, 2007. 六月二十五日在美國華盛頓州,珍芭洛與她的寵物犬唐肯合影.
PHOTO: AP
Balogh put her telephone in the dog's name, then used that as identification when she mailed in the registration form in April 2006. In November she wrote "VOID'' across Duncan's ballot and returned it with an image of a paw print on the signature line.
An election official called and she admitted what she had done, but the dog still was sent absentee ballots for school bond elections in February and May.
"Quite frankly, the process did take too long, and it should have been addressed after the November election,'' said Bobbie Egan, an elections office spokeswoman.
County election procedures are being reviewed to provide speedier action "whenever fraudulent activity is apparent,'' Egan said.
The removal came three weeks after Balogh was charged in King County Superior Court with making a false or misleading statement to a public servant, a misdemeanor.
A sheriff's investigator wrote that she admitted registering the dog under false pretenses "to make a point that anyone could vote, even an animal.''
A preliminary court hearing was pending.
美國華盛頓州金恩郡的官員表示,一隻狗收到了三場選舉的郵寄選單後,他們已經將這隻狗從選民名冊中剔除。
選委會主委雪瑞兒.赫芙說,她已取消了唐肯.麥當勞的選民資格。這隻狗屬澳洲牧羊犬與爹利狗混血,主人為珍.芭洛。
六十六歲的芭洛為了抗議修法後非公民也可輕易投票,就替自己的寵物狗登記選民資格。
芭洛把電話帳單改成她狗的名字,並在二○○六年四月寄出登記表格時,把帳單當作身分證明。十一月,她在狗兒的選票上寫著斗大的「無效」,並在簽名欄蓋上狗兒腳印。
一名選務人員致電來時,她坦承自己的所做所為,但在二月及五月的學校公債(school bond)投票時,她的狗又收到了選票。
選委會發言人芭比.艾根女士說︰「坦白說,整件事拖得太久了,十一月選舉過後就應該提出了。」
艾根表示,金恩郡現已檢討整個選務程序,「無論欺瞞行為何時出現」,才能更快速行動。
芭洛遭到金恩郡以「對公職人員言論造假或誤導」的輕罪起訴的三星期後,這隻狗的選民資格就被取消了。
警長的一名調查員在書面中透露,芭洛坦承自己造假為狗兒註冊,「好證明隨便什麼人都可以投票,連狗兒也行」。
法院初審將於近期舉行。
(美聯社'翻譯︰賴美君)
Publication Notes
TODAY'S WORDS 今日單字
1. absentee ballot n. phr.
郵寄選票 (you2 ji4 xuan3 piao4),缺席選票 (que1 xi2 xuan3 piao4)
例: When I was abroad, I was sent an absentee ballot.
(我出國時收到一張缺席選票。)
2. void adj.
無效的 (wu2 xiao4 de5)
例: This voucher has expired. It's void now.
(這張折價券過期,現在失效了。)
3. fraudulent adj.
欺騙的 (qi1 pian4 de5)
例: The con man used fradulent means to trick the granny into letting him into her flat.
(詐欺男子利用瞞騙手法,騙那名祖母讓他進門。)
4. misleading adj.
誤導的 (wu4 dao3 de5)
例: To say that distilled water is spring water is misleading.
(說蒸餾水是天然泉水有誤導之嫌。)
Publication Notes
SAY WHAT? 說說看
make a point 說明
If someone is trying to make a point then they are trying to demonstrate something that they feel is important. Often this entails doing something exaggerated or slightly ridiculous, just like the woman in the article.
A similar phrase is prove the point. For example: "I don't actually dislike Jolin. I was just trying to prove the point that people's musical tastes can vary."
「make a point」即為試著去證明自己認為重要的事,通常會行事誇張或稍嫌可笑,如同本文中的女子。
「prove the point」也是類似說法,例如︰「我不是真的討厭Jolin。我只想說明大眾的音樂品味不盡相同」。
Publication Notes
OUT LOUD 對話練習
Ben: Did you hear about that dog that was sent three ballot papers in the US?
Graham: It's loopy, isn't it?
Ben: Too right.
Graham: I mean, the first ballot was obviously a good demonstration of why the system needs to be re-examined. But the other two ...
Ben: I know. It's totally outrageous that they could continue to issue ballots when they knew he was a dog!
班︰你聽說了美國那隻收到三次選票的狗兒嗎?
艾美:簡直是瘋了,對吧?
班︰沒錯。
艾美:我想,第一張選票顯然說明了整個制度必須被重新檢視,但是另外兩次‥‥
班︰是啊。他們明知道那是狗,卻還繼續寄選票給牠,簡直是太過分了。
loopy 瘋了
You can say that something is loopy if you think that it is crazy or mixed up.
某事「loopy」即為瘋狂或讓人搞不清楚的事。
Comments will be moderated. Keep comments relevant to the article. Remarks containing abusive and obscene language, personal attacks of any kind or promotion will be removed and the user banned. Final decision will be at the discretion of the Taipei Times.