The bear necessities 熊的生存要件
Latvian confectioner Laima, Latvia's oldest chocolate maker, has presented a 40kg chocolate bear as a consolatory gift to the Estonian island of Ruhnu. The gift is in consolation for a brown bear which crossed to the island from Latvia on an ice floe last winter, but which is thought to have returned to the mainland in the autumn.
The bear first hit the headlines last April, when fishermen spotted it drifting into the Gulf of Riga on a floating chunk of ice. The animal disappeared in fog and was feared drowned.
Paw-prints were then seen on Ruhnu, which lies in the Gulf of Riga, 37km from the nearest land. The reports alarmed locals, but successive attempts to track down and capture the animal were foiled as it disappeared into the woods.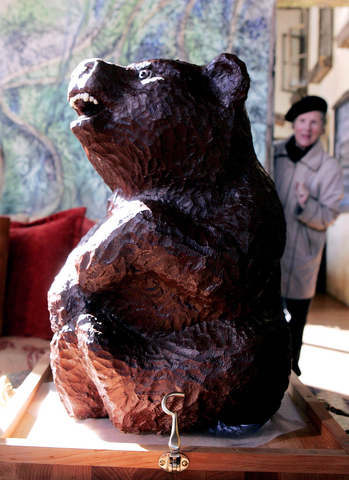 The chocolate bear a Latvian confectionery maker presented to Ruhnu island, Estonia on Apr. 4, 2007.一名拉脫維亞巧克力師傅在二○○七年四月四日獻給如諾島的巧克力熊。
PHOTO: AFP
Ruhnu, which covers 12km2 and has a population of 70, is two-thirds covered in forest. The woodland provided ample food and cover for the fugitive bear.
However, no sign of the animal has been seen since August, and it is believed to have returned to the Latvian mainland -— much to the islanders' relief.
"The bear was very exciting for tourists, but not for the people who live here. I think they're glad it's gone," said Ave Viirma of the Ruhnu county council.
That being the case, a chocolate bear is more than ample consolation, Viirma said. (dpa)
拉脫維亞最高齡的巧克力師傅萊瑪,獻給愛沙尼亞如諾島一頭四十公斤的巧克力熊作為安慰禮物。這份禮物是紀念去年冬天隨著一塊浮冰漂到如諾島上的棕熊。這隻棕熊據信已在秋天回到拉脫維亞。
這隻熊在去年四月初次登上頭條,一群漁夫看見牠困在一塊浮冰上,隨水流漂進里加灣,接著就消失在濃霧中,恐有溺水的危機。
里加灣內離最近拉脫維亞三十七公里處的如諾島上發現了棕熊的掌印。有報導提醒當地民眾注意,不過牠消失在森林中,導致連續幾次企圖追蹤捕捉黑熊的行動都失敗。
如諾島佔地十二平方公里,人口只有七十人,森林覆蓋了三分之二的土地,林地替這隻來無影去無蹤的棕熊提供了充足的食物和庇護。
不過自從去年八月以來就沒有這隻棕熊的蹤跡,島上居民認為這隻棕熊已經回到拉托維亞大陸,都鬆了口氣。
如諾島縣議會議員愛娃.薇兒瑪表示︰「這隻熊對遊客來說很值得興奮,但是當地居民卻不這麼認為,我認為他們很高興牠走了。」
薇兒瑪表示,假若真是這樣,一隻巧克力熊帶來的安慰就綽綽有餘。
(德通社/翻譯︰鄭湘儀)
Publication Notes
Today's Words 今日單字
1. consolatory adj.
慰藉的 (wei4 jie4 de5)
例: The runners up in the race received a consolatory bag of candy.
(賽跑中未得名的人有到一袋糖果做為安慰獎。)
2. ice floe n.
大浮冰 (da4 fu2 bing1)
例: As the iceberg melted, an ice floe broke off and floated away.
(冰山溶化時,會有大塊浮冰分裂漂離。)
3. foil v.i. /v.t.
阻擾 (zu3 rao2)
例: The burglar alarm foiled the robber's attempt to break-in undetected.
(防盜警報器盜阻礙了強盜想要闖空門的企圖。)
4. ample adj.
豐富的 (feng1 fu4 de5)
例: There is no need to snatch. There are ample supplies.
(不用搶,供應充沛。)
Comments will be moderated. Keep comments relevant to the article. Remarks containing abusive and obscene language, personal attacks of any kind or promotion will be removed and the user banned. Final decision will be at the discretion of the Taipei Times.