Dog saves owner's life 忠犬救主
Toby, a 2-year-old golden retriever, saw his owner choking on a piece of fruit and began jumping up and down on the woman's chest. The dog's owner believes the dog was trying to perform the Heimlich maneuver and saved her life.
Debbie Parkhurst, 45, said she was eating an apple when a piece stuck in her throat.
She tried to perform the Heimlich maneuver on herself, but it did not work. After she began beating on her chest, she said Toby noticed.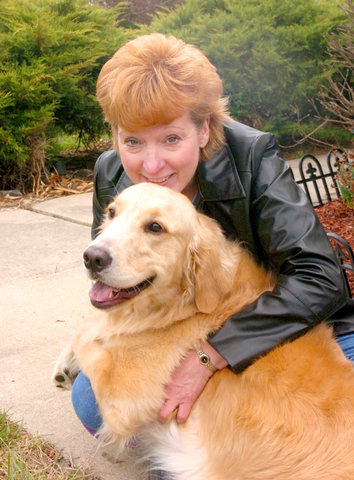 Debbie Parkhurst with her dog, Toby, in Calvert, Maryland, USA, Mar. 26, 2007. 今年三月二十六日,黛比派客赫斯特和她的狗陶比在美國馬里蘭州卡爾弗特市。
PHOTO: AP
"The next thing I know, Toby's up on his hind feet and he's got his front paws on my shoulders," she said. "He pushed me to the ground, and once I was on my back, he began jumping up and down on my chest.'' The apple came out, and Toby started licking her face to keep her from passing out, she said.
"I literally have pawprint-shaped bruises on my chest. I'm still a little hoarse, but otherwise, I'm okay," Parkhurst said.
"The doctor said I probably wouldn't be here without Toby,'' said Parkhurst. "I keep looking at him and saying, 'You're amazing.''' (ap)
兩歲大的黃金獵犬陶比看見主人被一片水果噎到,就開始在女主人的胸口跳上跳下,狗主人相信牠是想施行哈姆立克急救法救她的命。
四十五歲的黛比.派克赫斯特表示,她在吃蘋果時被一塊蘋果噎到。
她試著對自己進行哈姆立克急救法,但是沒有用,她開始捶自己的胸口後,她表示陶比注意到了。
「後來我就只知道陶比以後腿站立,前掌放在我的肩膀上,」她說︰「牠把我推倒在地,我一倒在地上,牠就開始在我胸口跳上跳下。」她說,蘋果掉出來後,陶比就開始舔她的臉,讓她保持清醒。
派克赫斯特表示︰「我的胸口真的有狗爪型的淤青,我還有點沙啞,不過除此之外都還好。」
「醫生說要不是陶比我今天也不會在這裡,」派克赫斯特表示︰「我一直看著牠,跟牠說︰『你好棒』。」
(美聯社╱翻譯︰鄭湘儀)
TODAY'S WORDS
1. choke v.i. /v.t.
哽住 (geng3 zhu4)
例: Eat your food slowly or you may choke on it.
(吃慢一點,要不然你會噎住。)
2. Heimlich maneuver n.
哈姆立克急救法
(ha1 mu3 li4 ke4 ji2 jiu4 fa4)
例: He saved my life using the Heimlich maneuver.
(他用哈姆立克急救法救了我一命。)
3. hind adj.
後部的 (hou4 bu4 de5)
例: My cat balances on its hind legs sometimes.
(我的貓有時會以後腿直立。)
4. hoarse adj.
嘶啞的 (si1 ya3 de5)
例: I've had a cold, so my throat is a little hoarse.
(我感冒了,我的喉嚨有點啞。)
Comments will be moderated. Keep comments relevant to the article. Remarks containing abusive and obscene language, personal attacks of any kind or promotion will be removed and the user banned. Final decision will be at the discretion of the Taipei Times.