Kids help spread Christmas cheer 孩童傳遞耶誕歡樂
National Geographic Kids magazine has set a Guinness World Record for the largest gathering of plush toys ever recorded. A total of 2,304 stuffed animals were collected from kids all over the US and from as far away as Australia, Japan, Norway and Scotland.
The toys were given to the US Marine Corps Reserves, who have distributed them to needy children in Washington as Christmas presents. The distribution was part of the ongoing Toys for Tots program.
It took four months to collect the animals, which were sent by individual readers, families, Girl Scout and Boy Scout troops and schools. A special guest at the record-setting ceremony was 7-year-old Shawn McNair, who is a second-grader at a school in New York. He organized a toy drive among his fellow students and collected 237 stuffed animals.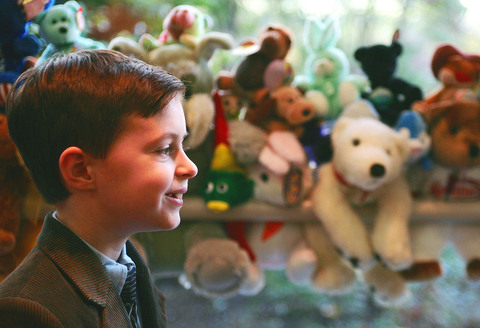 Second Grader Shawn McNair tries to find some of the toys he donated.二年級生夏恩麥卡尼爾試圖找尋部分他捐獻的玩具。
PHOTO: AFP
The toys had to be new, 100 percent plush and had to be a real animal, such as a bear or a lion. Thanks to the effort of kids all over the world, not only has a world record been broken, but some needy children will have a very special Christmas present!
國家地理雜誌兒童版因聚集最多填充玩具,打破了金氏世界紀錄。兩千三百零四隻填充玩具來自全美各地、甚至遠從澳洲、日本、挪威和蘇格蘭的孩童匯集而得。
這些玩具已交由美國海軍陸戰隊分送
給華盛頓貧困孩童作為耶誕禮物。這是「摔玩具計畫」的一環。
蒐集玩具動物的作業共耗時四個月
,分別來自個別讀者、家庭、女童子軍、男童子軍和學校。在創紀錄典禮上有一位特別嘉賓,是來自紐約七歲大的二年級學生-夏恩.麥卡尼爾,他規劃了一個籌募活動,向同學們蒐集到了兩百三十七個填充玩具。
玩具必須是全新、百分之百的長絨毛
,且一定得是真實動物,例如熊或是獅子。感謝來自世界各地孩童的用心,不僅打破一項世界紀錄,一些貧困孩童也能有特別的耶誕禮物。
(翻譯︰鄭湘儀)
Publication Notes
TODAY'S WORDS 今日單字
1. plush adj.
長毛絨的 (chang2 mao2 rong2 de5)
例: I bought my little sister a plush toy for Christmas.
(我買一個絨毛玩具給妹妹當耶誕禮物。)
2. needy adj.
貧窮的 (pin2 qiong2 de5)
例: Children's charities help needy children.
(兒童慈善機構協助需要幫助的孩童。)
3. drive n.
籌募活動 (chou2 mu4 huo2 dong4)
例: The group organised a drive to raise money for orphans through special events, such as a dinner dance and raffles.
(這個團體規劃一個籌募活動,透過如晚餐舞會和抽獎等特別活動為孤兒募款。)
Comments will be moderated. Keep comments relevant to the article. Remarks containing abusive and obscene language, personal attacks of any kind or promotion will be removed and the user banned. Final decision will be at the discretion of the Taipei Times.