Earth, wind and fire! 地、風、火!
Have you ever seen a wind turbine? There are a lot of wind turbines in Taiwan. You can see them in Taoyuan, Penghu, Pintung and Miaoli. But do you know what they are for?
Wind turbines take the natural energy or power of the wind and change it into electricity that we can use in our homes. Wind turbines are a good way to make electricity for several reasons.
Firstly, there is a lot of wind, and wind will always be there. This means that the source of the electricity won't go away, unlike coal or gas which will one day run out.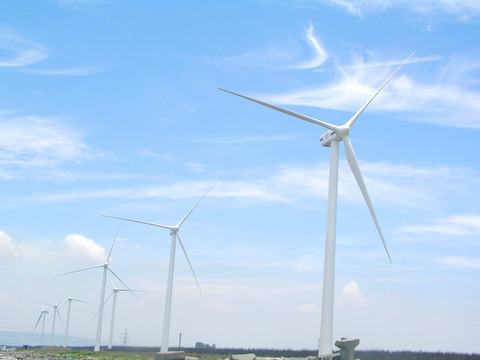 Wind turbines in Changhua County, Taiwan 彰化縣的風力發電機。 (照片:記者蔡文正攝)
PHOTO: CAI WEN-ZHENG, TAIPEI TIMES
Secondly, you don't have to burn anything, like coal, gas, or oil to make electricity with a wind turbine. That means cleaner air for everyone.
Some people think that wind turbines aren't very pretty though. Other people think that something which keeps the world a cleaner place is very beautiful. Luckily, in Taiwan people are sensible enough to understand that.
(Catherine Thomas, staff writer)
你看過風力發電機嗎?台灣有很多風力發電機。你可以在桃園、澎湖、屏東與苗栗看到。不過你知道他們的用途嗎?
風力發電機可以將自然能源或風力轉變成我們在家中使用的電能。風力發電機是很好的發電方式,有好幾個理由。
首先,風很常見,隨時都有風。這意味電力源源不絕,不像終究會耗盡的燃煤或瓦斯。
其次,使用風力發電機時,你不必燃燒燃煤、瓦斯或石油等東西來製造電能。這意指著每個人都有更乾淨的空氣。不過,有人認為風力發電機很醜,也有人認為讓世界維持乾淨是相當美好的。幸運的是,台灣人夠理性,能瞭解這一點。 (翻譯:賴美君)
Publication Notes
Today's Words 今天單字
1. wind turbine n.
風力發電機 (feng1 li4 fa1 dian4 ji1)
例: Wind turbines work well on the coast.
(海岸的風力發電機成效佳。)
2. natural energy   n. phr.
自然能源 (zi4 ran2 neng2 yuan2)
例: Solar power is a type of natural energy.
(太陽能是一種自然能源。)
3. source n.
來源 (lai2 yuan2),源頭 (yuan2 tou2)
例: Spring water is safe to drink at the source of the spring.
(飲用源頭的泉水安全無虞。)
Comments will be moderated. Keep comments relevant to the article. Remarks containing abusive and obscene language, personal attacks of any kind or promotion will be removed and the user banned. Final decision will be at the discretion of the Taipei Times.