Can chocolate be healthy? 巧克力保健?
Fancy a chocolate that can boost your health? Healthcare company Eu Yan Sang International Limited intends to bring out a series of food products, including chocolates, that are infused with traditional Chinese herbs, like ginseng, in a bid to grow its business.
The Singapore-listed firm, whose history dates from 1879, announced plans for a new brand to tap into growing demand in North America, Europe and Australia. Under the Red, White and Pure label, the aim is to offer Chinese medicinal therapy in a stylish, urban setting to broaden its appeal to Western consumers, the company said.
Eu Yan Sang will open its first Red, White and Pure store in Singapore in December. It plans to offer a 70-seat dining outlet, a beverage bar serving tonic drinks, an outdoor eatery and a retail area.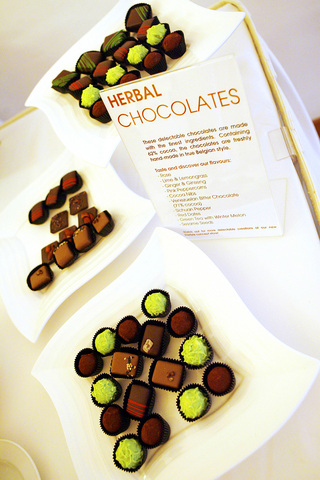 Herbal chocolates displayed by healthcare company Eu yan Sang International Limited in Singapore. 新加坡專營保健食品的余仁生國際有限公司展示本草巧克力。 (照片:法新社)
PHOTO: AFP
"We have had a lot of interest on the use of Chinese herbs in all forms of cooking and we are not talking about traditional Chinese herbal cooking here," said Richard Eu, group chief executive of the company. "So we are trying to find new ways of using Chinese herbs in cooking and in cuisine."
He said the Singapore store will allow them a test run before the company takes the new brand to Western markets including the US. "The idea is really to use this as a platform to work out the bugs and then try and transport the idea, particularly to Western countries," Eu said.
Eu Yan Sang has 114 retail outlets in Hong Kong, Malaysia and Singapore. Its products are also available in pharmacies, supermarkets and health clubs around the world.
(AFP)
你能想像巧克力也能促進健康?專營保健食品的余仁生國際有限公司為了擴充業務,準備推出一系列結合人參等傳統中藥材的食品,巧克力便是其一。
這家創於一八七九年、總部設在新加坡的公司為了因應北美、歐洲及澳洲不斷成長的需求並從市場獲利,宣布推出新品牌的計畫。余仁生國際有限公司表示,在時尚、都會風格的環境中提供中醫療法,增加對西方消費者的吸引力,是「紅、白、純淨」這個新品牌創立的目的。
余仁生首家「紅、白、純淨」商店十二月將在新加坡開幕,內部規劃了七十個座位的美食館、專門供應滋補飲品的飲料吧、戶外用餐區及零售區。
余仁生國際有限公司執行長余義明說:「我們對各式烹調結合中藥材的作法一直很感興趣,但這裡說的並非一般傳統藥膳。所以我們正努力研發結合烹調料理與中藥材的新方法。」
他表示,在將新品牌輸往包括美國在內的西方市場前,新加坡這家零售店將先進行營運測試。余義明說:「我們的想法是利用這做為解決問題的平台,然後再試著移轉這套構想,特別是到西方國家。」
余仁生在香港、馬來西亞及新加坡共有一百一十四家零售店,全球各地的藥局、超市及健身中心也都能買到它的產品。
(法新社/翻譯:林倩如)
Publication Notes
Today's Words 今天單字
1. infuse v.t.
將...注入 (jiang1 ... zhu4 ru4)
例: I love tea infused with lavender.
(我喜歡在茶中加入薰衣草。)
2. ginseng n.
人參 (ren2 shen1)
例: Ginseng is an excellent tonic if you are feeling tired.
(感覺疲累時,人參是絕佳的滋補品。)
3. urban adj.
城市的 (cheng2 shi4 de5)
例: Sally lives in an urban area.
(莎莉住在城市裡。)
4. bug n.
毛病 (mao2 bing4) ;程式中的錯誤 (cheng2 shi4 zhong1 de5 cuo4 wu4)
例: My computer is really slow. Maybe I should run a clean-up to get rid of any bugs.
(我電腦很慢,或許我該執行磁碟清理,清掉磁碟中的錯誤。)
Comments will be moderated. Keep comments relevant to the article. Remarks containing abusive and obscene language, personal attacks of any kind or promotion will be removed and the user banned. Final decision will be at the discretion of the Taipei Times.