Hollywood company joins anti-smoking campaign 好萊塢片商加入反菸活動
A top movie company has agreed to a deal with 41 US states that will put anti-smoking public service announcements on DVDs of films that depict smoking, a statement said Tuesday.
The Weinstein Company, run by legendary Hollywood moviemakers Bob and Harvey Weinstein, is the first company to sign up to the initiative, which will get under way when the company releases Clerks II on DVD in December.
A statement from California Attorney General Bill Lockyer said legal authorities across the US had asked several Hollywood studios to consider supporting the initiative.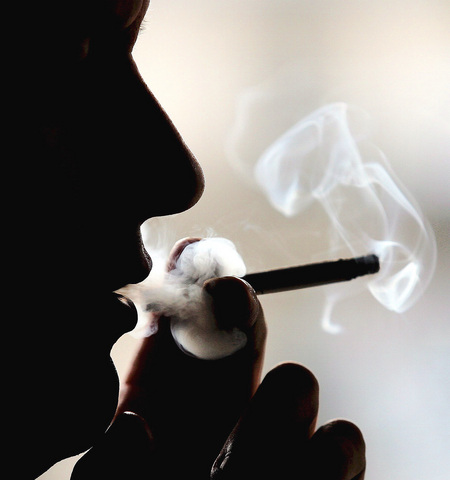 Smoking cigarettes is endangering the health of youths everywhere. 抽菸危害青少年健康,舉世皆然。 (照片:歐新社)
PHOTO: EPA
"Bob and Harvey Weinstein deserve great credit for taking a leadership role in helping to fight youth smoking, which remains one of the most serious public health problems facing communities across the country," Lockyer said.
Harvey Weinstein said he felt that he was obligated, as a former smoker, to sign the deal. "I feel like it's my responsibility to do everything I can to educate young people about the dangers of smoking," Weinstein said.
The Weinstein brothers, who started the successful Miramax company involved with such Oscar-winning classics as The English Patient and Shakespeare in Love, said they hoped other studios would now be encouraged to follow.
"Hopefully, our company's decision to move forward will make other studios reconsider the idea," they said in a statement.
Lockyer and 40 other state attorneys-general in September sent a letter offering a choice of three anti-smoking advertisements to 13 major motion picture companies for inclusion in DVDs at no cost to the studios.
So far only The Weinstein Company has responded.(AFP)
週二一份聲明指出,一家重要電影公司已與美國四十一州達成協議,將在描述吸菸的影片DVD中加上反菸聲明的公共服務。
由好萊塢傳奇製片兄弟檔鮑伯與哈維.溫斯頓所成立的溫斯頓公司,是首家簽署這項提案的公司,將在其公司十二月推出「瘋狂店員2」DVD 時開始進行。
加州檢察總長比爾.拉克耶在一份聲明中表示,全美的法務當局已要求幾家好萊塢片商考慮支持這項提案。
拉克耶說︰「鮑伯與哈維.溫斯頓在協助防制青少年吸菸中扮演領導性角色,值得讚揚。青少年吸菸是全美各社群最嚴重的公共健康問題之一。」
哈維.溫斯頓表示他身為成功戒菸者,簽署這項協議責無旁貸。他說︰「盡我所能來教育年輕人抽菸的危害,感覺就像是我的責任。」
溫斯頓兄弟是鼎鼎有名的Miramax電影公司創辦人,其公司出品的作品包括奧斯卡得獎經典「英倫情人」與「莎翁情史」。他們希望其他片商現在也能受激勵起而效尤。
他們在聲明中說︰「希望我們公司向前邁進的決議可以讓其他片商考慮這點。」
拉克耶與其他四十位州檢察總長於九月發信給十三家大片商,希望他們考慮在DVD中免費刊登三則反菸廣告的其中一則。
截至目前為止,只有溫斯頓公司予以回應。 (法新社/翻譯:賴美君)
Publication Notes
Today's Words 今天單字
1. depict v.t.
描述 (miao2 shu4)
例: Paula's new painting depicts the lake by her house.
(寶拉的新畫作描述她屋旁的湖景。)
2. legendary adj.
傳奇的 (chuan2 qi2 de5)
例: Babe Ruth was a legendary baseball player.
(貝比魯斯是一名傳奇的棒球員。)
3. initiative n.
提案 (ti2 an4)
例: This new initiative proposes better hours and wages for workers.
(這項新提案是以員工更佳的工作時數與薪資為訴求。)
4. obligated adj.
有義務的 (you3 yi4 wu4 de5)
例: Of course I'm obligated to go; it's my sister's wedding.
(我當然有義務參加;這是我姊姊的婚禮。)
Comments will be moderated. Keep comments relevant to the article. Remarks containing abusive and obscene language, personal attacks of any kind or promotion will be removed and the user banned. Final decision will be at the discretion of the Taipei Times.