We'll bring the noodles! 我們會帶麵來!
Taiwan's biggest food company has signed a deal for an untold amount of money to sponsor the Beijing Olympics, Chinese officials have said.
The company, Uni-President, has spent US$1.7 billion (NT$56 billion) on building up business in China. It is the only company from Taiwan to sponsor the 2008 Games, a marketing official with the Beijing organizing committee said.
The official said the deal to become the official noodle supplier to the Games was a good financial move for the Beijing Olympics.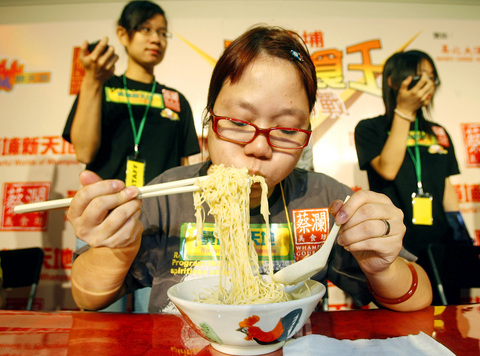 A contestant eats noodles during an eating competition in Hong Kong. 香港大胃王競賽中,一名參賽者在吃麵.
PHOTO: AP
"We are pleased with this deal," said the official, who declined to be named.
Announcing the sponsorship on its Web site, the Beijing organizing committee made no mention of the firm's Taiwanese origins.
Committee executive vice president Wang Wei said he welcomed the sponsorship from "a famous Chinese brand ... of noodles."
The Taiwan company said that it viewed the deal as a positive business agreement that would allow it to use the 2008 Olympic logo to help sell its brand in China and elsewhere.
Beijing has aggressively marketed the Olympic Games in an attempt to avoid cost becoming too big, opening several categories of sponsorship for financial backers.
The Taiwanese company joins nine other companies as sponsors, while another nine firms are designated as suppliers.
Eleven Chinese and international firms have signed up as Beijing 2008 partners while 11 IOC Worldwide Olympic Partners will also support the event.
(AFP)
中國官員表示,台灣食品業龍頭已簽署一項金額保密的合作協議,準備贊助北京奧運。
北京奧運組織委員會一名行銷官員指出,二○○八奧運贊助商中,統一企業是唯一的台資企業,佈局中國的投資金額達十七億美元(新台幣五百六十億元)。
官員表示,這項成為奧運官方速食麵贊助商的協議,對北京奧運的財務大有助益。
一名拒絕透露姓名的官員表示︰「我們很高興達成這項協定。」
北京奧組委在網站上發布這項贊助消息,卻隻字不提統一企業來自台灣。
北京奧組委執行副主席王偉表示,歡迎「一家中國知名速食麵品牌的贊助。」
統一企業表示視這項合作計畫為具正面意義的商業協議,統一因此能使用二○○八奧運的標誌,在中國及其他地區打響品牌知名度。
北京一直大肆為奧運做宣傳,為財務贊助者開放數種贊助項目,目的就是為避免開銷過於龐大。
統一企業與其他九家企業同列贊助商,另有九家企業成為奧運指定供應商。
十一家中國和國際企業已簽約成為二○○八北京奧運合作夥伴,而十一個國際奧委會全球奧運夥伴也將支援這項賽事。(法新社╱翻譯︰鄭湘儀)
Publication Notes
TODAY'S WORDS 今日單字
1. decline v.t.
婉拒 (wan3 ju4)
例: Lindsay had said she was hungry, so everyone was surprised when she declined our invitation to dinner twice.
(琳賽說過她很餓,所以大家都很驚訝她兩度拒絕我們晚餐的邀約。)
2. origin n.
起源 (qi3 yuan2)
例: Nick is from the US but his family's origins are French, German and Irish.
(尼克來自美國,但是他的家族有法國、德國和愛爾蘭的血統。)
3. aggressive adj.
有幹勁的 (you3 gan4 jin4 de5)
例: Allen gets very aggressive when he plays tennis.
(艾倫打網球時非常具有攻擊性。)
4. designate v.t.
指定 (zhi3 ding4)
例: Ken cooks dinner every night, so Rachel has been designated as the dishwasher.
(肯每晚下廚,所以瑞秋都被派去洗碗。)
Comments will be moderated. Keep comments relevant to the article. Remarks containing abusive and obscene language, personal attacks of any kind or promotion will be removed and the user banned. Final decision will be at the discretion of the Taipei Times.