Wanted: ugly sheep 全力通緝:醜綿羊
Australian scientists have begun a search for the country's ugliest sheep. They want to find the most wrinkled, lumpy, bald or funny-looking sheep to try to find out which genes produce high-quality wool.
By doing tests on an ugly sheep, scientists can find out which of its genes are damaged, causing it to be ugly. Then, they can use this information to find out which genes make a sheep have really good wool.
Australia's wool industry is worth about 2.8 billion Australian dollars (NT$67.63 billion) each year. Scientists hope to use the information they find from the study to produce higher-quality wool to compete with increasingly popular synthetic materials.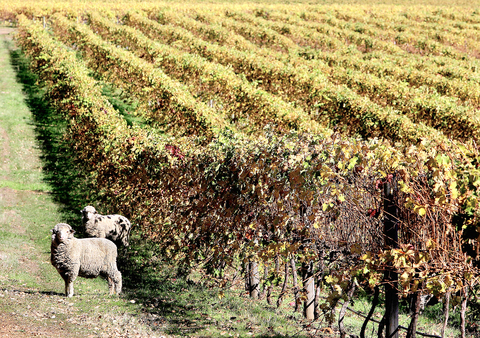 Sheep graze on a farm in western Australia. 澳洲西部一處農場裡放牧的綿羊。 (照片:法新社)
PHOTO: AFP
``It's the ugly sheep that will help us ... make (Australian wool) more stretchy, less scratchy, shinier and easier to spin,'' said Paul Hynd, one of the researchers in the study.
These ugly sheep -- the ones born with rough, uneven or extra-curly wool, bald patches, or even very wrinkled skin -- are usually killed after they are born instead of being used for their wool. Now scientists are asking farmers to donate their unusual sheep or wool clippings to the study.
``These lambs, typically viewed as worthless, are in fact highly valuable to the industry because one of the most efficient ways to identify the genes that impact certain wool traits is to study animals that have rare or extreme features,'' said Hynd. (AP)
澳洲科學家已針對澳國境內最醜的綿羊展開一項研究,他們想尋找皺紋最多、動作最笨拙、毛最光禿或長相最滑稽的綿羊,以設法找出能生產出高品質羊毛的基因。
藉由在醜綿羊身上進行試驗,科學家們就能找出導致綿羊外表醜陋的受損基因。
澳洲羊毛工業的年產值大約澳幣二十八億元(新台幣六百七十六億三千萬元)。科學家們希望利用這項研究的結果生產出更高品質的羊毛,好與愈來愈受歡迎的人造纖維競爭。
參與這項研究的研究員保羅.罕德說:「醜綿羊將幫助我們製造出更有彈性、較不易讓人發癢、亮度更高也更容易紡織的澳洲羊毛。」
這些醜綿羊出生時不是有著粗糙、不均勻或特別捲曲的毛,就是身上有幾處光禿不長毛的地方,甚至連皮膚也特別皺,因此出生後常在羊毛無法拿來利用的情況下慘遭人類毒手。現在科學家要求農場主人把這類稀有綿羊或從牠們身上修剪下來的羊毛,捐贈給他們進行研究。
罕德說:「這些常被認為無用的羔羊,其實對羊毛工業深具價值,因為研究擁有罕見或極端特點的綿羊,是確認哪些基因會影響某些羊毛特性的最有效途徑之一。」
(美聯社/翻譯:林倩如)
Publication Notes
Today's Words 今天單字
1. gene n.
基因 (ji1 yin1)
例:Andy is really tall, just like his mom. He must have gotten her genes.
(安迪個頭真高,就跟他母親一樣。他一定遺傳了她的基因。)
2. synthetic adj.
人造的 (ren2 zao4 de5),合成的 (he2 cheng2 de5)
例:My desk is made from synthetic materials, not real wood.
(我的書桌是合成材料製成的,不是真正的木頭。)
3. donate v.t.
捐贈 (juan1 zeng4)
例:I decided to donate the clothes I don't wear anymore to charity.
(我決定把不再穿的衣服捐給慈善團體。)
4. trait n.
特性 (te4 xing4),特點 (te4 dian3)
例:Loyalty and honesty are Amanda's best traits.
(忠誠是亞曼達最棒的特點。)
Publication Notes
Reading Comprehension
閱讀測驗
1. Really ugly sheep ...
a. don't have any genes.
b. don't have enough genes.
c. have damaged genes.
2. What is the prize for the ugliest sheep?
a. 2.8 billion Australian dollars.
b. Donated wool clippings.
c. The story doesn't say.
3. What is a challenge facing Australia's wool industry?
a. There are more and more ugly sheep born every year.
b. New products made from synthetics are very popular.
c. Scientists can't cure sheep with damaged genes.
4. Ugly sheep are usually ...
a. eaten.
b. killed.
c. donated to research projects.
Comments will be moderated. Keep comments relevant to the article. Remarks containing abusive and obscene language, personal attacks of any kind or promotion will be removed and the user banned. Final decision will be at the discretion of the Taipei Times.