A new friend
If you had a snake wrapped around your body, what would you do?
Most people would not be smiling the way the girl in this picture is. Many people think snakes are scary.
Some people might be afraid that a snake will bite them. If you are bitten by a poisonous snake, you could die or get very sick.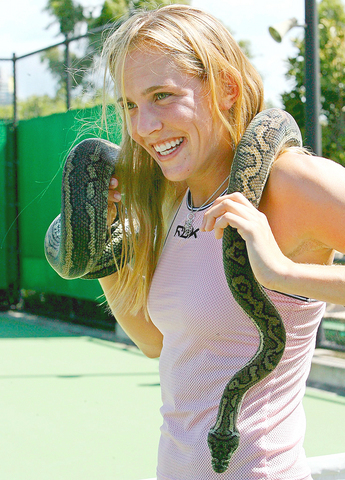 PHOTO: EPA
This girl is not afraid because the snake she's holding is not poisonous. It's called a python (蟒蛇). Instead of biting, when they are hungry, pythons grab small animals and squeeze them to death. Once they are dead, pythons swallow those animals whole.
This girl is too big for this snake to squeeze to death. No wonder she's smiling!
Publication Notes
Do you know?
BIG EATERS
Pythons don't eat every day. Because they swallow animals whole, the animals stay in their stomachs for a few days. Most pythons eat small things, but a python in the US tried to eat an alligator (鱷魚) last year. It swallowed the gator, but died because it couldn't digest it.
Publication Notes
The words of the day
poisonous adj.
有毒的 (you3 du2 de5)
squeeze v.t.
擠壓 (ji3 ya1)
My little brother squeezes my hand tightly when we watch scary movies.
我和小弟一起看恐怖電影時,他緊緊抓住我的手。
Comments will be moderated. Keep comments relevant to the article. Remarks containing abusive and obscene language, personal attacks of any kind or promotion will be removed and the user banned. Final decision will be at the discretion of the Taipei Times.