Upside down
When you were a small child, did anyone ever lift you up by your feet and hold you in the air?
If so, you know what this man feels like. It looks like he is being lifted into the air, but he got into this position by jumping.
The scary part of jumping into the air like this probably isn't going up. It's making sure that when you come down, you don't get hurt.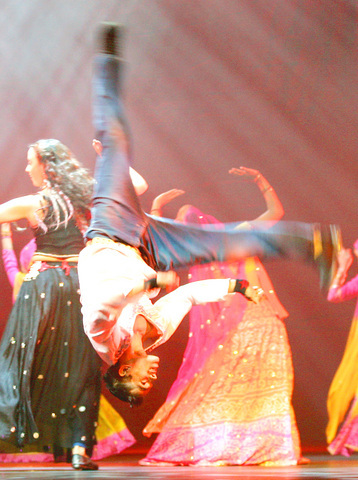 PHOTO: AFP
When the bottom part of something is where the top part should be, it is upside down -- like the man in this picture. When the bottom part is where it normally should be, this is called right-side up.
Notice that only right-side up has a hyphen.
Publication Notes
Do you know?
DANCING UP A STORM
The people in this picture aren't just jumping. They are dancing. They are part of a play about the history of Indian movies. Indian movies are famous for being beautiful, colorful, and having lots of dancing.
Publication Notes
The words of the day
upside down
顛倒 (dian1 dao3)
right-side up
放正 (fang4 cheng4)
I can't read the book if you hold it upside down. Turn it right-side up, please.
你把書拿顛倒了,我沒辦法讀,把它放正拜託。
Comments will be moderated. Keep comments relevant to the article. Remarks containing abusive and obscene language, personal attacks of any kind or promotion will be removed and the user banned. Final decision will be at the discretion of the Taipei Times.