2018 ELECTIONS: Kaohsiung candidates stage last rallies
FERVENT SUPPORT: Hundreds of thousands of people attended the events, where DPP candidate Chen called for justice and the KMT's Han vowed to revitalize the city
With the Kaohsiung mayoral election having become a flashpoint of the nine-in-one local elections, the candidates from the two largest political parties last night made a last-ditch effort with large-scale campaign rallies ahead of today's vote.
Democratic Progressive Party (DPP) Kaohsiung mayoral candidate Chen Chi-mai (陳其邁) urged his supporters at his election-eve rally to get justice for Kaohsiung and for the city's three-term former mayor, Presidential Office Secretary-General Chen Chu (陳菊), by voting today.
"Chinese Nationalist Party [KMT] Chairman Wu Den-yih (吳敦義) called her [Chen Chu] a 'fat sow' and [KMT Kaohsiung mayoral candidate] Han Kuo-yu [韓國瑜] described Kaohsiung as an old and poor city," Chen Chi-mai said.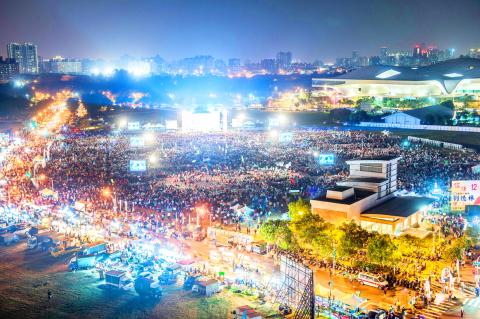 Tens of thousands of supporters of Democratic Progressive Party Kaohsiung mayoral candidate Chen Chi-mai attend his election-eve campaign rally in the city yesterday.
Photo: Chang Chung-i, Taipei Times
"Let us translate our anger into action and use our ballots to safeguard Kaohsiung, to show Chen Chu that we care about her and to get justice for the city," he said, adding that without the sacrifice of Chen Chu and other democracy pioneers in the 1979 Kaohsiung Incident, Taiwan's democracy would not have made it to where it is today.
Chen Chu also gave a rousing speech at the rally, where she said her team spent 12 years trying to make the city a better place and that it is time she passed on the torch.
"All eyes are on tomorrow's elections. People are waiting to see if we will let someone who barely knows anything about Kaohsiung, who has no idea where he is taking the city and who has benefited from biased coverage and the meddling of foreign forces, take over the helm of the city," Chen Chu said, asking supporters to remained united and vote.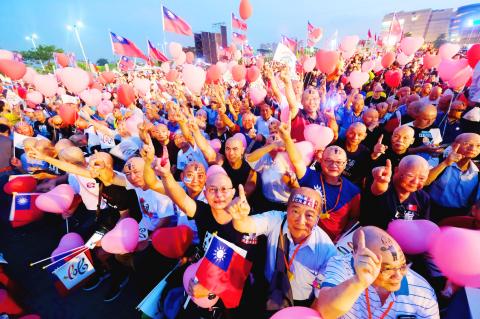 Supporters of Chinese Nationalist Party (KMT) Kaohsiung mayoral candidate Han Kuo-yu hold up balloons and the national flag at Han's election-eve campaign rally in Kaohsiung yesterday.
Photo: CNA
Premier William Lai (賴清德) and DPP New Taipei City mayoral candidate Su Tseng-chang (蘇貞昌) made a video conference call to Chen Chi-mai at the rally to show their support.
Although President Tsai Ing-wen (蔡英文) did not attend the rally, she had joined Chen Chi-mai at campaign activities earlier in the day.
The rally attracted more than its original target of 200,000 people, Chen Chi-mai's campaign office said.
Meanwhile, Han vowed to put an end to the DPP's 20-year governance of Kaohsiung and turn it into a rich and youthful city.
As early as 4pm yesterday, large crowds of supporters began congregating at the Taiwan Sugar Logistics Park in the city, where the KMT candidate's election-eve evening rally was held, waiving Republic of China flags and the Kaohsiung city flag.
"After suffering from 20 to 30 years of political ideology, elections have become a curse that gives Kaohsiung residents a headache... The city is like a well-dressed man who has no cash in his pocket," Han said at the rally, which attracted about 150,000 participants.
Han said that if elected, he would transform Kaohsiung from an "old and poor" city into a "rich and youthful" one, while vowing to stay closely connected to people at the grassroots level by having a member of his team spend a night at the house of someone belonging to a medium-low income family once per month.
He also pledged to be a mayor of integrity, saying that if he is ever convicted of corruption, he would waive his right to parole hearings.
Comments will be moderated. Keep comments relevant to the article. Remarks containing abusive and obscene language, personal attacks of any kind or promotion will be removed and the user banned. Final decision will be at the discretion of the Taipei Times.