Yageo to construct plant in Kaohsiung, invest NT$10bn
Passive components maker Yageo Corp (國巨) yesterday said it plans to invest NT$10 billion (US$325.71 million) over the next three years to build a plant for high-end multilayer ceramic capacitors (MLCC) and other passive components used in vehicles, filling a supply gap to be left by its Japanese peers.
Yageo, the world's third-largest MLCC supplier, said it is to build the plant in Kaohsiung rather than China to minimize risks from the US-China trade war.
The company is the latest in a slew of local manufacturers that have announced their intention to relocate Chinese production lines or build new plants in Taiwan to avoid an extra burden on manufacturing costs caused by the trade dispute.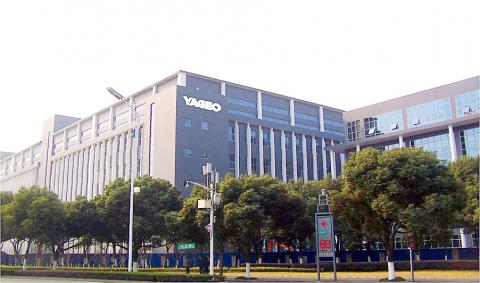 The headquarters of passive components maker Yageo Corp in New Taipei City's Xindian District is pictured in an undated photograph.
Photo: Chang Huei-wen, Taipei Times
Yageo said the investment would boost its MLCC capacity by 20 percent to 60 billion units a month by the end of next year, compared with 50 billion units by the end of this year.
In 2020, the capacity is to climb to 70 billion units a month, it said.
Yageo "aims to expand capacity for medium-to-large MLCCs and automotive-grade MLCCs as Japanese suppliers are to pull out of the market next year and the year after," it said.
The expansion would also "fulfill the increasing demand for high-end components from new applications," it said.
Japanese MLCC supplier Murata Manufacturing Co earlier this year told its customers that it plans to withdraw from certain traditional MLCC markets and focus on high-end MLCCs mostly for electric vehicles, Yageo said.
Murata plans to stop producing certain products in the spring of 2020, Yageo said.
The company's exit would provide a boon to other manufacturers, as demand would increase by 20 percent and supply would be squeezed further, it said.
Yageo operates three MLCC plants: two in Kaohsiung and one in Suzhou, China.
Yageo's board of directors yesterday approved a plan to acquire 21,000m2 of land in Kaohsiung's Dafa Industrial Park (大發工業區) for NT$790 million in cash.
Including investments in land, the plant, equipment and environmental protection facilities, Yageo is to invest about NT$10 billion in capital expenditure over three years.
The company as of Sept. 30 had accumulated NT$36 billion in cash or cash equivalents, ensuring its ability to fund the expansion.
Shares of Yageo yesterday closed at NT$324, down more than 73 percent since its yearly high on July 2 of NT$1,230 on concern over demand headwinds.
Comments will be moderated. Keep comments relevant to the article. Remarks containing abusive and obscene language, personal attacks of any kind or promotion will be removed and the user banned. Final decision will be at the discretion of the Taipei Times.