US official backs Taiwan attending Interpol assembly
The US supports Taiwan's meaningful participation in international organizations, including Interpol, a US Department of State spokesperson said on Tuesday.
The spokesperson made the statement after Taipei said that it was asking friendly nations to speak up at an Interpol executive committee meeting to support Taiwan's participation at Interpol's general assembly that opens on Nov. 16 in Dubai, United Arab Emirates.
The spokesperson said Washington supports Taiwan's participation in international organizations whether or not they require statehood.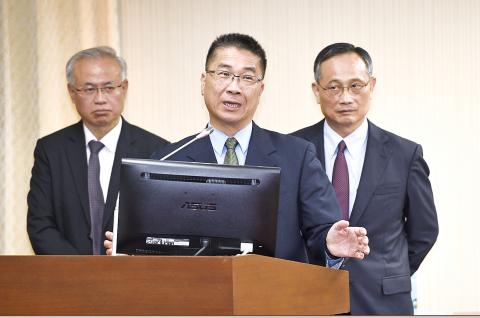 Deputy Minister of Justice Chang Tou-hui, left, and National Police Agency Director-General Chen Ja-chin, right, listen as Minister of the Interior Hsu Kuo-yung reports to the Internal Administration Committee of the Legislative Yuan in Taipei yesterday.
Photo: George Tsorng, Taipei Times
"In organizations that require statehood for membership, the US supports Taiwan's meaningful participation. This includes the ICAO [International Civil Aviation Organization], Interpol, WHO and the more than 60 international organizations in which Taiwan participates," the spokesperson said.
The Criminal Investigation Bureau (CIB) on Monday said that it sent a letter to ask that it participate as an observer at the Interpol assembly.
Ministry of Foreign Affairs Department of International Organizations Director-General Bob Chen (陳龍錦) on Tuesday said that Interpol had received the letter sent by CIB Commissioner Tsai Tsan-po (蔡蒼柏) last month, but has yet to respond.
Minister of the Interior Hsu Kuo-yung (徐國勇) yesterday told lawmakers that Taiwan's participation in the assembly would be beneficial for China.
Asked by Democratic Progressive Party (DPP) Legislator Liu Shih-fang (劉世芳) whether former Interpol president and Chinese Deputy Minister of Public Security Meng Hongwei (孟宏偉) being under investigation would give Taiwan a better chance of attending the assembly, Hsu, who was appearing at the Legislative Yuan to report on the government's drug policy, said the government is trying very hard to make that happen.
The Department of State's expression of support for Taiwan's participation was a strong boost for the nation's effort to attend the assembly, he said.
Asked by People First Party Legislator Chen Yi-chieh (陳怡潔) whether the government has received a response from Interpol, Hsu said it has not.
China's obstruction is the only thing preventing Taiwan from taking part in the assembly, he said, adding that it has a great effect on global efforts to fight crime, such as the smuggling of illegal drugs.
Blocking Taiwan from participating in the assembly does not benefit the investigation of cross-border crimes in any way, he said.
More than 70 percent of illegal drugs circulating in Taiwan originate in China, he said.
He urged Beijing to allow Taiwan to join Interpol, adding that doing so would be helpful for maintaining peace around the world.
Asked by Liu whether a mechanism is in place for cross-strait cooperation against crime, National Police Agency Director-General Chen Ja-chin (陳家欽) said that while the two sides are still cooperating on individual cases, these instances have become fewer.
The cases on which Taiwan and China are working more closely are fraud cases, which affect the property and safety of Taiwanese and Chinese, he said.
The two sides have also been working together in the fight against illegal drugs, he added.
Comments will be moderated. Keep comments relevant to the article. Remarks containing abusive and obscene language, personal attacks of any kind or promotion will be removed and the user banned. Final decision will be at the discretion of the Taipei Times.