Pence speech to slam China over threats, Taiwan
US Vice President Mike Pence yesterday was to give China a blunt warning that the US will not back down from intimidation in the South China Sea, as well as condemning Beijing for its poaching of Taiwan's allies.
Pence was to deliver an address at the Hudson Institute think tank in Washington, which is likely to increase tensions between the US and China beyond trade disputes.
He was to accuse Beijing of convincing three Latin American nations to sever ties with Taiwan and recognize China.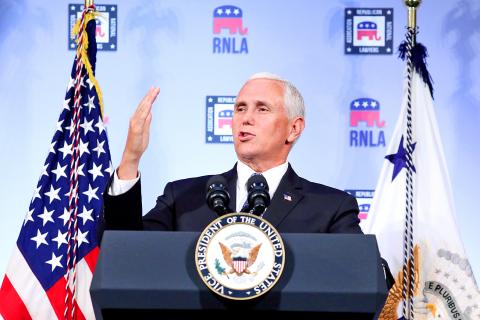 US Vice President Mike Pence delivers a speech at the Republican National Lawyers Association in Washington on Aug. 24.
Photo: Reuters
"These actions threaten the stability of the Taiwan Strait — and the United States of America condemns them. And while our administration will continue to respect our 'one China' policy, as reflected in the Three Joint Communiques and the Taiwan Relations Act, let me also say that Taiwan's embrace of democracy shows a better path for all the Chinese people," Pence was to say.
In excerpts of his speech seen by reporters, Pence was also to call attention to an incident in which a destroyer, the USS Decatur, traveled within 12 nautical miles (22km) of the Spratly Islands (Nansha Islands, 南沙群島) on Sunday.
He was to say that a Chinese naval vessel came within 41m of the USS Decatur "as it conducted freedom-of-navigation operations in the South China Sea, forcing our ship to quickly maneuver to avoid collision."
"Despite such reckless harassment, the United States Navy will continue to fly, sail and operate wherever international law allows and our national interests demand. We will not be intimidated. We will not stand down," the text said.
US President Donald Trump last week accused China of attempting to meddle in the US midterm elections next month, while offering little in the way of evidence. Beijing rejected the charge.
He cited a Chinese government-run media company's four-page supplement in the Sunday Des Moines Register of Iowa as an attempt to turn voters in that state against Trump's trade policies.
Pence was to address the issue, saying that the US intelligence community has determined that China is targeting US state and local governments and officials to exploit any divisions between federal and local levels on policy.
"It's using wedge issues, like trade tariffs, to advance Beijing's political influence," he was to say, adding that the goal is to shift Americans' perception of Chinese policies by mobilizing "covert actors, front groups and propaganda outlets."
"As a senior career member of our intelligence community recently told me: What the Russians are doing pales in comparison to what China is doing across this country," Pence was to say.
He was also to say that Chinese officials have tried to influence business leaders to condemn US trade actions, "leveraging their desire to maintain their operations in China."
"In one recent example, they threatened to deny a business license for a major US corporation if it refused to speak out against our administration's policies," the text said, without specifying the company.
Pence was also to use the phrase "debt diplomacy" in reference to China's efforts to expand its influence worldwide.
"Today, that country is offering hundreds of billions of dollars in infrastructure loans to governments from Asia to Africa to Europe to even Latin America, yet the terms of those loans are opaque at best and the benefits flow overwhelmingly to Beijing," the text said.
He was also to say that Beijing has extended a lifeline to "the corrupt and incompetent [Venezuelan President Nicolas] Maduro regime," pledging US$5 billion in loans that could be repaid with oil.
Comments will be moderated. Keep comments relevant to the article. Remarks containing abusive and obscene language, personal attacks of any kind or promotion will be removed and the user banned. Final decision will be at the discretion of the Taipei Times.