Floods displace more than 1,000
LIVESTOCK LOSS: The Chiayi County Government estimated that more than 400,000 chickens and 4,000 pigs have drowned, costing at least NT$150 million
Chiayi County yesterday continued relief efforts after a tropical depression dumped more than 500mm of rain on southern Taiwan over 24 hours.
Flooding was seen in 47 areas in 11 townships, including 22 schools, while 627 police officers have been deployed to conduct relief operations, Chiayi County Commissioner Helen Chang (張花冠) said.
The county government is closely monitoring 87 mudslide-prone streams and rivers that are under red alert, meaning that rainfall has exceeded the rivers' abilities to carry water, she said.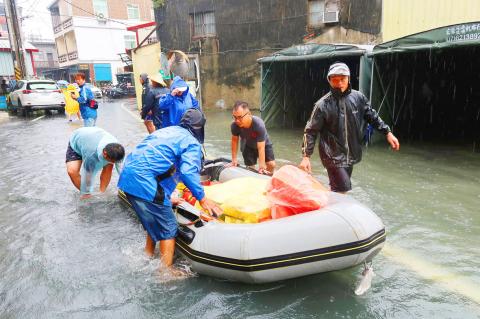 Gangshan District Office staff in Kaohsiung yesterday pull a rubber boat carrying meal boxes in the district's Tandi Borough.
Photo: CNA
More than 400,000 chickens and 4,000 pigs have drowned, according to initial estimates by the county government.
The livestock industry alone has lost NT$150 million (US$4.87 million), it said, adding that it expects the number to rise as floodwaters have not yet receded.
In a video conference with Chang, President Tsai Ing-wen (蔡英文) urged cooperation between the central government and the county, after heavy rains forced the evacuation of 156 residents and sent another 134 to shelters.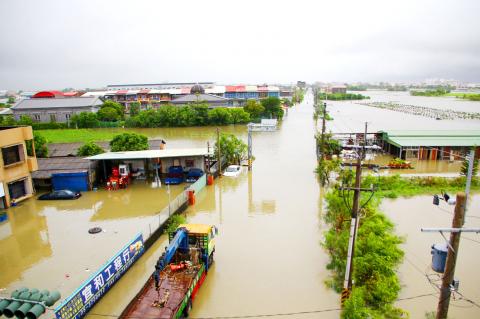 Roads in Chiayi County's Puzi City are flooded yesterday.
Photo: Lin I-chang, Taipei Times
As of 8am yesterday in Tainan, 942 people were evacuated as large parts of the city flooded, the local government said.
The downtown Anping Canal (安平運河) overflowed, flooding 21 of the city's 37 districts, it said.
City government data showed that some districts were inundated with more than 600mm of rain over 24 hours, with Nansi District (楠西) receiving 700mm.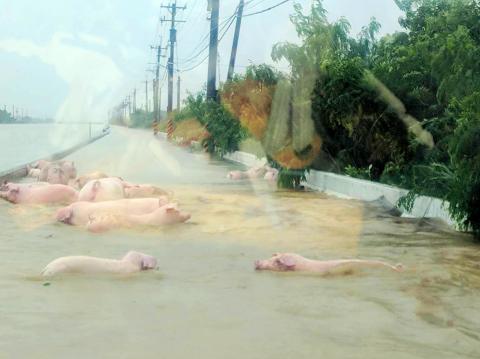 Pigs are stranded in floodwaters on Provincial Highway No. 19 in Chiayi County yesterday.
Photo: Copy by Lin I-chang, Taipei Times
The Ministry of National Defense said that 37,000 soldiers are on standby for rescue and relief operations in southern and central Taiwan.
The Marine Corps' 47 AAV-7 amphibious assault vehicles have also been deployed, while another 5,000 aircraft and vehicles are ready, the ministry said.
Premier William Lai (賴清德) asked authorities at all levels to be ready to respond to emergencies and urged local governments to pay attention to environmental hygiene to prevent the spread of diseases such as dengue fever.
Yesterday morning, schools and offices were closed in Taichung, Tainan, Chiayi and Kaohsiung, as well as in Changhua, Yunlin, Nantou and Chiayi counties. Schools and offices were also closed in Pingtung County's Majia (瑪家) and Shihzih (獅子) townships.
As the tropical depression moved slowly northward, it continued to dump heavy rain in central and southern Taiwan, the Central Weather Bureau said.
As of 3pm yesterday, areas south of Chiayi had accumulated 750mm to 850mm of rain since the system made landfall in Pingtung County on Thursday, it said.
The extremely heavy rainfall was caused by a rare combination of a strong tropical depression and moist southwesterly winds, the bureau said.
Additional reporting by Lin Yi-chang
Comments will be moderated. Keep comments relevant to the article. Remarks containing abusive and obscene language, personal attacks of any kind or promotion will be removed and the user banned. Final decision will be at the discretion of the Taipei Times.