Duterte approves Muslim autonomous region bill
Philippine President Rodrigo Duterte has signed legislation creating a new Muslim autonomous region aimed at settling nearly half a century of unrest in the south.
Presidential spokesman Harry Roque and another key aide, Bong Go, late on Thursday told reporters without elaborating that Duterte signed the bill creating the region, to be called Bangsamoro.
The autonomy deal, which has been negotiated for more than two decades under four presidents, was ratified earlier this week by both chambers of the legislature.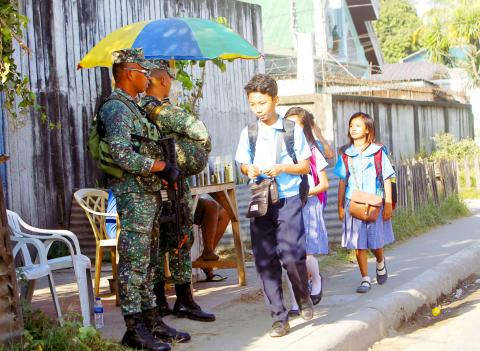 Soldiers stand guard on Thursday as children walk by in a Muslim community in Zamboanga, the Philippines.
Photo: EPA
"This is to announce that the president has just signed the BOL into law," Roque said in a cellphone message, referring to the Bangsamoro Organic Law.
The deal was negotiated with the Moro Islamic Liberation Front, the largest Muslim rebel group in the south, although about half a dozen smaller Islamic State group-linked radical groups remain a threat in the region.
Moro front chairman Al Haj Murad Ebrahim on Tuesday told a news conference that up to 40,000 fighters would be "decommissioned" if the autonomy deal is fully enforced.
The disarming would be done in batches based on compliance with the accord, with the final 40 percent of the guerrillas turning over their weapons once there is full compliance.
Six of the largest guerrilla camps were already being converted into "productive civilian communities" to help the insurgents return to normal life, Murad added.
Murad appealed to the international community to contribute to a trust fund to finance the insurgents' transition from decades of waging one of Asia's longest rebellions.
"We will decommission our forces, the entire forces," Murad said, declining to immediately cite the number of weapons that "will be put beyond use."
The Bangsamoro replaces an existing autonomous region and is to be larger, better-funded and more powerful. An annual grant, estimated at 60 billion to 70 billion pesos (US$1.12 billion to US$1.31 billion), is to be set aside for development.
Murad's guerrilla force is the second to drop a demand for a separate Muslim state in exchange for autonomy. The Moro National Liberation Front forged a 1996 peace deal with the government that led to the current five-province Muslim autonomous region, which has largely been regarded as a failure.
Murad said it is crucial for the peace agreement to be fully enforced, citing how earlier failed attempts prompted some guerrillas to break away and form groups.
"We can roughly conclude that all these splinter groups are a result of the frustration with the peace process," Murad said.
Comments will be moderated. Keep comments relevant to the article. Remarks containing abusive and obscene language, personal attacks of any kind or promotion will be removed and the user banned. Final decision will be at the discretion of the Taipei Times.