Su to run for DPP in New Taipei City
LINCHPIN: President Tsai Ing-wen was quoted as saying that the former premier's political credentials and connections to the city make him the party's best candidate
Former premier Su Tseng-chang (蘇貞昌) yesterday agreed to represent the Democratic Progressive Party (DPP) in the New Taipei City mayoral election, although the paperwork formalizing his candidacy would not be completed until the end of this month.
President Tsai Ing-wen (蔡英文), who is also DPP chairperson, yesterday met with Su after the party's Central Executive Committee and its Electoral Strategy Committee on Wednesday recommended that Su be drafted as the party's candidate for New Taipei City mayor, DPP spokesman Cheng Yun-peng (鄭運鵬) said.
The mayoral election is a linchpin of the party's electoral strategy for the November nine-in-one elections that would be an overall morale booster if successful, Cheng quoted Tsai as saying at the meeting.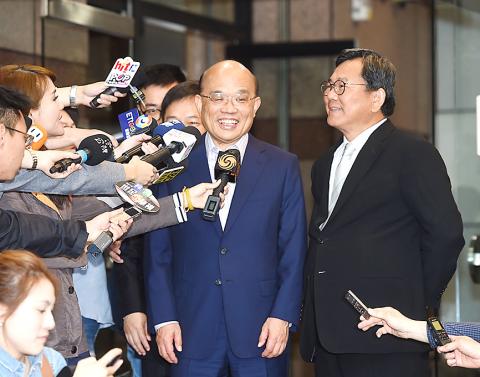 Former premier Su Tseng-chang smiles as he leaves the Democratic Progressive Party's headquarters in Taipei yesterday.
Photo: Fang Pin-chao, Taipei Times
Su's political credentials and past connections to New Taipei City make him the party's best candidate, and his performance as Taipei County commissioner from 1997 to 2004 created the DPP's standard for quality governance, Cheng quoted Tsai as saying.
Cheng said that Su — who has demonstrated a willingness to support the party's younger members and had stumped for DPP Legislator Wu Ping-jui (吳秉叡), who on Saturday last week bowed out of the DPP primary for New Taipei City — cited a sense of duty for accepting the party's nomination.
The spokesman quoted Su as saying that his decision would bring about controversy, but "as a founding member of the party, I cannot say no when it needs me," adding that the DPP would be needed at the helm to make New Taipei City successful.
After the meeting, Su said in a statement on Facebook that he would not let New Taipei City residents down and could help the city's development.
Regarding a promise in 2010 not to run for a third term as commissioner of Taipei County — which later became New Taipei City — Su said he could not predict the future.
Electoral Strategy Committee convener Lin Hsi-yao (林錫耀) said that the formal procedures for Su's nomination would be completed by April 25.
New Taipei City Council DPP caucus convener Lee Kun-cheng (李坤城) said Su's decision was welcomed by all the party's members in the city council.
With only seven months until the election, the party must stand united, especially when facing the Chinese Nationalist Party (KMT), which would have "home-field advantage" due to New Taipei City Mayor Eric Chu (朱立倫), Lee said.
The caucus would work closely with Su to achieve a majority in the city council, he added.
Separately, former premier Yu Shyi-kun (游錫堃), who represented the DPP in the 2014 New Taipei City mayoral race, said on Facebook that he fully supported the party's decision to draft Su as its candidate.
The year-end local elections are critical for the party, which should unite as never before, Yu said.
Additional reporting by Ho Yu-hua
Comments will be moderated. Keep comments relevant to the article. Remarks containing abusive and obscene language, personal attacks of any kind or promotion will be removed and the user banned. Final decision will be at the discretion of the Taipei Times.