Facebook critics want regulation, probe after data firm taps 50 million profiles
Facebook Inc faced new calls for regulation from within US Congress and was on Saturday hit with questions about personal data safeguards after reports that a political consultant gained inappropriate access to 50 million users' data starting in 2014.
Facebook disclosed the issue in a blog post on Friday, hours before media reports that conservative-leaning Cambridge Analytica, a data company known for its work on US President Donald Trump's 2016 presidential campaign, was given access to the data and might not have deleted it.
The scrutiny presented a new threat to Facebook's reputation, which is already under attack over Russians' alleged use of Facebook tools to sway US voters before and after the 2016 US presidential elections.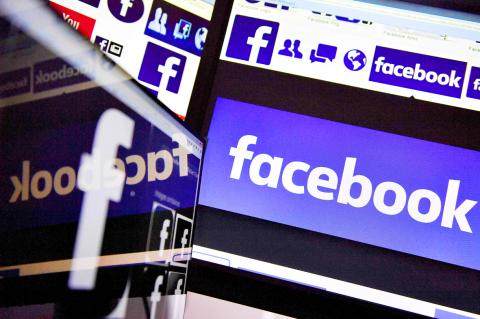 Facebook Inc logos are pictured in an arranged photograph on Nov. 20 last year.
Photo: AFP
"It's clear these platforms can't police themselves," US Senator Amy Klobuchar tweeted.
"They say 'trust us.' Mark Zuckerberg needs to testify before Senate Judiciary," she added, referring to the Facebook chief executive officer and a committee she sits on.
Facebook said the root of the problem was that researchers and Cambridge Analytica lied to it and abused its policies, but critics threw blame at Facebook as well, demanding answers on behalf of users and calling for new regulations.
Facebook said the data was misused, but not stolen, because users gave permission, sparking a debate about what constitutes a hack that must be disclosed to customers.
"The lid is being opened on the black box of Facebook's data practices and the picture is not pretty," said Frank Pasquale, a University of Maryland law professor who has written about Silicon Valley's use of data.
One of the largest data leaks in Facebook history allowed Cambridge Analytica, which had ties to Trump campaign strategist Steve Bannon, to develop techniques that formed the basis of its work on the Trump campaign, the New York Times and the Guardian reported.
Facebook said it suspended Cambridge Analytica.
Cambridge Analytica in a statement denied any wrongdoing.
The data firm is probably best known for its political work during the 2016 US presidential campaign. The company claims to build psychological profiles based on personal details from millions of Americans that can categorize individual voters.
It worked for both the primary campaign of US Senator Ted Cruz and Trump's presidential campaign.
Trump's campaign team denied using the firm's data, saying it relied on the Republican National Committee (RNC) for its data.
"The campaign used the RNC for its voter data and not Cambridge Analytica," the campaign said in a statement. "Using the RNC data was one of the best choices the campaign made. Any claims that voter data were used from another source to support the victory in 2016 are false."
Cambridge Analytica is backed by the family of billionaire donor Robert Mercer, a hedge fund manager who also supported the Trump campaign and other conservative candidates and causes, including Bannon.
Trump campaign officials have downplayed Cambridge Analytica's role, saying they briefly used the company for television advertising and paid some of its most skilled data employees.
The firm had secured a US$15 million investment from Mercer and wooed Bannon with the promise of tools that could identify the personalities of US voters and influence their behavior.
However, Cambridge Analytica did not have the data to make its new products work. So the firm harvested private information from the Facebook profiles of more than 50 million users without their permission.
British officials are also investigating the firm in connection with the June 2016 Brexit referendum.
Trump's former national security adviser Michael Flynn disclosed an advisory role with Cambridge Analytica in August last year.
Flynn is cooperating with special counsel Robert Mueller's investigation into Russian election interference after pleading guilty to a felony charge.
Comments will be moderated. Keep comments relevant to the article. Remarks containing abusive and obscene language, personal attacks of any kind or promotion will be removed and the user banned. Final decision will be at the discretion of the Taipei Times.