Filipinos to be granted visa-free entry
LAW ENFORCEMENT: MECO Chairman Angelito Banayo called for closer cooperation to better address 'borderless' crimes such as drug smuggling and human trafficking
Philippine nationals could become eligible for visa-free entry for stays in Taiwan of up to 14 days by next month or November, Ministry of Foreign Affairs Department of East Asian and Pacific Affairs Director-General Winston Chen (陳文儀) said yesterday.
The details of the new policy were hammered out at an interministerial meeting of national security, police, immigration and other officials, Chen said at a news conference, adding that Premier William Lai (賴清德) approved the program on Wednesday.
The government has decided to implement the visa-free program on a trial basis to promote people-to-people, tourist and commercial exchanges between Taiwan and the Philippines, Chen said, adding that the start date for the trial is expected to be announced in a month.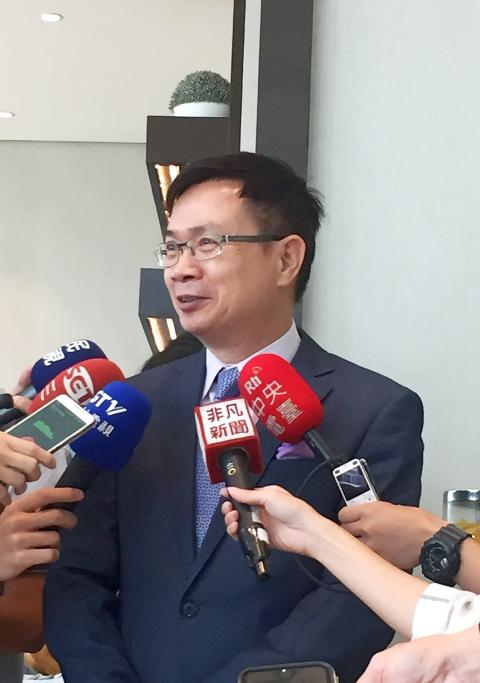 Taiwan External Trade Development Council chairman James Huang is interviewed by reporters in Manila yesterday. James Huang calls the Executive Yuan's approval of the visa waiver program to Philippine nationals "the best gift," saying it will greatly benefit bilateral exchanges.
Photo: CNA
The government encourages Manila to follow the principle of reciprocity and grant Taiwanese nationals visa-free privileges as soon as possible, Chen said.
The government has since Aug. 1 relaxed visa rules for nationals of the 10 ASEAN member states, which include the Philippines, as well as for Indian nationals.
Taiwan included the Philippines in its electronic visa program on Oct. 7 last year.
The Travel Agent Association of the Republic of China, Taiwan said it expected the visa-waiver program to attract 33 percent more Philippine visitors to Taiwan next year and boost tourism revenue by NT$2 billion (US$65.8 million).
Tourism revenue from Philippine tourists has been forecast to reach NT$7 billion this year, it said.
The Manila Economic and Cultural Office in Taipei (MECO) later yesterday said that it welcomes the ministry's plan for the visa waiver program, adding that it would respond to the friendly gesture by relaxing visa requirements for Taiwanese travelers in the Philippines.
In a separate statement, it called for Taipei and Manila to work more closely together, especially on fighting cross-border crime.
That statement came a day after the Taipei Economic and Cultural Office (TECO) in Manila rejected a claim by Philippine President Rodrigo Duterte that drugs in the Philippines originated in Taiwan.
MECO Chairman Angelito Banayo called for closer cooperation in the areas of law enforcement and combating organized crime.
"We all know that organized crime, specifically drug trafficking, knows no borders, which calls for closer coordination between the Philippine and Taiwan authorities," Banayo said.
MECO and TECO have been working together "closely in forging agreements on law enforcement cooperation aimed at addressing borderless crimes such as drug smuggling and human trafficking," the statement said.
Such law enforcement agreements are in the pipeline and are expected to be signed by the end of this year or early next year, the statement added.
One of the key components of President Tsai Ing-wen's (蔡英文) New Southbound Policy is to strengthen collaboration with other nations to fight international crime, which in the case of the Philippines means a concerted effort to combat narcotics, the statement said.
Comments will be moderated. Keep comments relevant to the article. Remarks containing abusive and obscene language, personal attacks of any kind or promotion will be removed and the user banned. Final decision will be at the discretion of the Taipei Times.