Civil rights exhibition opens before nation marks its first Freedom of Speech Day
The nation is today celebrating Freedom of Speech Day for the first time since the holiday was announced in December last year, while an exhibition featuring banned political magazines and civil rights movements during the Martial Law era was launched yesterday at Jingmei Human Rights Park in New Taipei City's Sindian District (新店).
Speaking at the exhibition's opening, Minister of Culture Cheng Li-chiun (鄭麗君) said that people should not take freedom of speech for granted, as the nation's democracy pioneers shed blood and sweat — and some even gave their lives — for it.
The holiday is to be observed annually on April 7, the day on which Freedom Era Weekly (自由時代) editor-in-chief Deng Nan-jung (鄭南榕) self-immolated in his office in 1989 after years of being targeted by the then-Chinese Nationalist Party (KMT) government due to his political activism, including organizing the 228 Redress Movement and campaigns for Taiwanese independence.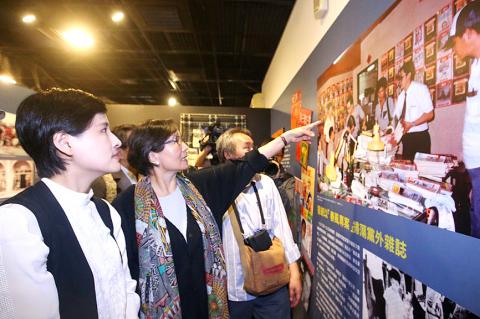 From left to right, Minister of Culture Cheng Li-chiun and former presidential office secretary-general Yeh Chu-lan, who is also the widow of democracy activist Deng Nan-jung, yesterday visit an exhibition on the civil rights movement during the Martial Law era at New Taipei City's Jingmei Human Rights Park.
Photo: CNA
Cheng said that one day during her senior year of high school in 1986, her teacher told the class that it would be dismissed early because "mobs" were going to "make trouble" near Longshan Temple in Taipei's Wanhua District (萬華).
The event turned out to be the "519 Green Movement," which was led by Deng and advocated the lifting of martial law.
"The movement that day became the enlightenment for my political career," she said.
Deng, who fought for "100 percent freedom of speech," played a pivotal role in the nation's transition from an authoritarian regime to a democracy with his magazine, Cheng said.
In contrast, China continues to clamp down on freedom of speech, which negatively affects cross-strait interactions, she said.
Deng's widow, former Presidential Office secretary-general Yeh Chu-lan (葉菊蘭), said that although people today enjoy freedom of speech, that does not mean that they can live without fear.
Yeh criticized Beijing over some Taiwanese entertainers that were forced to make remarks that went against their beliefs to be able to retain access to the Chinese market.
"This shows that freedom of speech can only truly be attained when one has the right to choose not to speak [against their will] and that freedom of expression will be an empty slogan if Taiwan's status as a nation is not normalized," she said.
People used to be imprisoned for supporting Taiwanese independence, Yeh said, calling on the younger generation to strive for the cause, even as Beijing continues to refer to Taiwan as an "inseparable part of its holy territory."
"Independence is the only way for Taiwan to survive," she said, quoting her husband's last words.
The exhibition features introductions and photographs of underground political magazines and civil rights movements from the 1960s to the early 1990s.
It also offers a review of Deng's life, including a photograph of his tombstone, on which his calligraphy of the phrase: "Fight for 100 percent freedom" is inscribed.
Comments will be moderated. Keep comments relevant to the article. Remarks containing abusive and obscene language, personal attacks of any kind or promotion will be removed and the user banned. Final decision will be at the discretion of the Taipei Times.