Tsai urges unity in face of diplomatic crisis
President Tsai Ing-wen (蔡英文) yesterday urged unity across political lines against China as Sao Tome and Principe broke diplomatic ties with Taiwan.
The African nation's decision to terminate ties with Taiwan, as well as changes in the international situation, pose a major challenge to Taiwan diplomatically, Tsai said at a meeting of the Democratic Progressive Party's (DPP) Central Standing Committee at the party's headquarters in Taipei.
"At a time of change, national solidarity across party lines is increasingly needed to fight against foreign forces," DPP spokesman Yang Chia-liang (楊家俍) quoted Tsai as saying. "China has never stopped suppressing Taiwan's international participation and diplomatic efforts."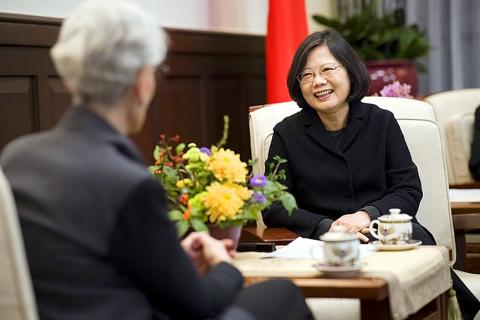 President Tsai Ing-wen is pictured during a meeting with former US under secretary of state for political affairs Wendy Sherman at the Presidential Office in Taipei on Thursday last week.
Photo: courtesy of the Presidential Office
China is behind a series of diplomatic setbacks Taiwan has faced, including the Gambia's decision to sever diplomatic ties in 2013, the disrespectful treatment former president Ma Ying-jeou (馬英九) was subject to in Malaysia last month and Sao Tome and Principe's announcement yesterday, Tsai said.
"As those incidents clearly suggest, China's intervention occurs regardless of which party is in charge of the [Taiwanese] government," she said.
China's diplomatic isolation of Taiwan is directed against the entire population instead of specific political parties, Tsai said, adding that such practices are counterproductive to long-term cross-strait development and alienate Taiwanese.
In face of these challenges, the government must adopt a pragmatic diplomatic policy to broaden the scope of the nation's international cooperation and improve Taipei's relations with other nations on a mutually beneficial basis, she said.
Since Tsai was inaugurated in May, it has been the government's top priority to increase the nation's global presence and re-evaluate the unfair treatment the nation has been subject to, Tsai said, reiterating that the nation would not ease its diplomatic efforts.
"While divergence and conflict are common between the ruling and opposition parties, it is time we united against foreign forces to protect the national interest," Tsai said.
Presidential Office spokesman Alex Huang (黃重諺) said Tsai met with government officials at noon to respond to the incident.
The participants included National Security Council Secretary-General Joseph Wu (吳釗燮), Premier Lin Chuan (林全), Minister of Foreign Affairs David Lee (李大維), Mainland Affairs Council Minister Katharine Chang (張小月) and central bank Governor Perng Fai-nan (彭淮南).
Huang said the president issued three instructions following the meeting: it is unnecessary for Taiwan to engage in "checkbook diplomacy" and it should maintain its stance of assisting diplomatic allies based on the principles of equality, reciprocity and mutual prosperity; that Beijing's attempts to limit Taiwan's international participation cause damage to the global community and cross-strait development; and finance-related government agencies should closely monitor the stock market in the aftermath of the break.
Additional reporting by CNA
Comments will be moderated. Keep comments relevant to the article. Remarks containing abusive and obscene language, personal attacks of any kind or promotion will be removed and the user banned. Final decision will be at the discretion of the Taipei Times.