MRT killer to appear in Supreme Court hearing
The Supreme Court has granted a request by lawyers for convicted Taipei MRT killer Cheng Chieh (鄭捷) to appear in person for the upcoming court hearing to appeal his death sentence.
It is the first time a defendant on death row will appear at the Supreme Court for a trial hearing.
Cheng's legal team is trying to stave off the death sentence, which was handed down by a lower court in March last year, and upheld by the High Court in October last year.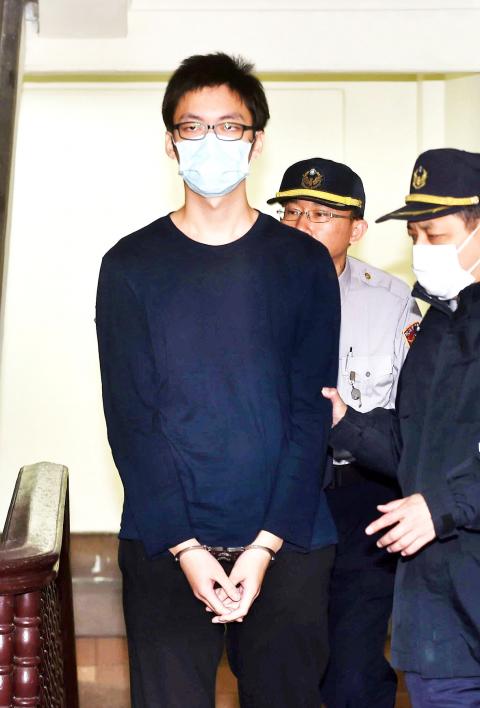 Convicted Taipei MRT killer Cheng Chieh is escorted in shackles on Dec. 22 last year in Taipei.
Photo: Fang Pin-chao, Taipei Times
Cheng, then 21 years old, killed four people and injured 22 in a horrific knife attack on the Taipei MRT on May 21, 2014. He is being held at the Taipei Detention Center in New Taipei City's Tucheng District (土城).
His lawyers, Lin Chun-hung (林俊宏) and Liang Chia-ying (梁家贏), said that Cheng had agreed to make the request, which they made at the Supreme Court's pre-trial proceedings earlier this week.
They requested that Cheng defend himself at the trial hearing at the Collegiate Bench (合議庭) of the Supreme Court, which is scheduled for April.
Legal authorities said the victims of the attack and their families can also appear in the hearing, and prosecutors can speak on their behalf.
Cheng's lawyers said the defense could also challenge the constitutionality of the death sentence.
They will seek an interpretation from the Council of Grand Justices, arguing that capital punishment violates the Constitution, they said.
The legal team said they would ask the Supreme Court to suspend the hearing pending a ruling by the grand justices.
Critics called the moves delaying tactics by the lawyers to buy time for Cheng, because the constitutional challenge could take years.
"It is a waste of legal resources, and a waste of taxpayers' money," National Taiwan University law professor Lee Mao-sheng (李茂生) said.
"For Supreme Court cases, it is usually the third ruling, which is to decide whether wrongful judicial procedures or contraventions of law had taken place during the first and second rulings. If there were questions, then the case should be sent back for a retrial. In this instance, the Supreme Court is taking on the wrong task," Lee said.
Comments will be moderated. Keep comments relevant to the article. Remarks containing abusive and obscene language, personal attacks of any kind or promotion will be removed and the user banned. Final decision will be at the discretion of the Taipei Times.