Land, sea alerts for Typhoon Dujuan
TORRENTIAL: The Central Weather Bureau projected that as much as 900mm of rain could fall in parts of New Taipei City, the most expected in the nation
The Central Weather Bureau (CWB) yesterday issued land and sea alerts for Typhoon Dujuan, which has gained strength, adding that residents of mountainous areas in central, northern and northeastern regions should beware the effects of torrential rainfall.
At 10pm last night, today was declared a typhoon day in Taipei, New Taipei City, Taoyuan, Keelung and Yilan County.
At 8pm, Dujuan was centered 500km southeast of Taipei, moving northwest at 14kph. The storm packed gusts of 226.8kph. The bureau reported waves as high as 6m off the coast of Taitung.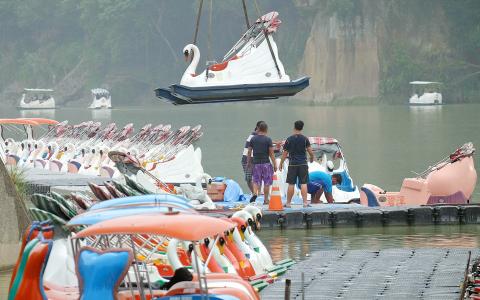 A crane lifts a tourist boat out of the water as workers secure vessels in the Bitan area of New Taipei City's Sindian District yesterday.
Photo: AFP
Bureau forecaster Lo Ya-yin (羅雅尹) said that the typhoon gained strength when it passed to the south of the Ryukyu Islands, as the sea temperature in the area was favorable for the storm's further development.
However, she said that the typhoon is forecast to weaken slightly as it approaches Taiwan because of geographical factors and cold air from the north.
When asked about where the typhoon might make landfall, Lo said that typhoons tend to vacillate as they approach coastal areas, adding that landfall could occur as far south as Hualien.
Lo said that the likelihood of precipitation would be high today in the morning and early afternoon in northern and central areas, as well as in Hualien, as the typhoon draws nearer.
However, she said that rain in western, central and northeastern areas would accumulate quickly between late afternoon today and tomorrow morning, as the center of Dujuan is expected to move across Taiwan after landfall.
The bureau estimated that the greatest amount of rainfall would occur in mountainous areas in northern, northeastern and central Taiwan yesterday, today and tomorrow, with rainfall in mountainous areas of New Taipei City potentially reaching 900mm, the most in the nation.
Lo said that the rain is expected to ease tomorrow afternoon or evening, when Dujuan is expected to move across the Taiwan Strait.
According to the bureau, the sea alert applies to ships operating off the nation's north, northeast and southeast coasts, as well as those in the Bashi Channel and the northern part of the Taiwan Strait.
In preparation for potentially heavy rainfall, the Northern Region Water Resources Office discharged water from reservoirs to avoid overflow when the typhoon arrives.
Comments will be moderated. Keep comments relevant to the article. Remarks containing abusive and obscene language, personal attacks of any kind or promotion will be removed and the user banned. Final decision will be at the discretion of the Taipei Times.