NTNU students protest award for Alibaba head
National Taiwan Normal University (NTNU) students initiated a signature drive against the university's decision to confer an honorary doctorate of education upon Alibaba Group Holding Ltd (阿里巴巴) chairman Jack Ma (馬雲), demanding that the university divulge its "black-box" decisionmaking process.
NTNU president Chang Kuo-an (張國恩) awarded Ma the degree on Friday last week during a ceremony that Legislative Speaker Wang Jin-pyng (王金平), an alumnus, attended as a guest.
The students yesterday presented a petition to NTNU secretary Lin An-pang (林安邦) asking Chang to address their demands.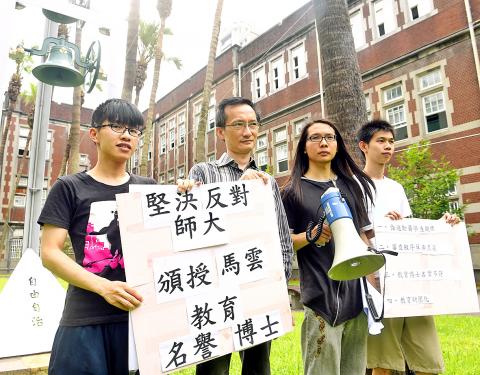 National Taiwan Normal University lecturers and students protest at the university in Taipei yesterday over its decision to award an honorary degree to Alibaba Group chairman Jack Ma.
Photo: George Tsorng, Taipei Times
They demanded that the school reveal which department recommended Ma for the degree, its rationale and what review processes had been undertaken to consider the appropriateness of the degree.
The university should not have given Ma the degree, because he has been involved in a number of controversies, student Pan Kuan (潘寬) said.
Pan said that Taobao.com (淘寶), Alibaba's biggest e-commerce platform, is rife with counterfeit goods and that Ma has made improper comments about the 1989 pro-democracy protests in China, labeling the crackdown at Tiananmen Square as "the most correct decision."
Chang reportedly said at the ceremony that the idea to consider Ma for an honorary degree was inspired by a speech Ma delivered in Taiwan in March.
"How could such a decision be made in three months and on the basis of a speech?" student Lou Dan (羅丹) asked.
The students also demanded that the university apologize to students and teachers for forcing them to attend the ceremony and canceling classes, Lou said, adding that some students were told that they risked being marked absent if they did not attend.
The university should review its policies for awarding honorary degrees, Lou said.
The university said it encouraged its teachers to ask students to attend the ceremony, at which Ma spoke for 15 minutes, because it knew there were students who were disappointed they did not get a chance to hear him speak in March due to limited space.
However, students were not compelled to attend, it said.
The decision to confer the degree was made by a review committee after the College of Education recommended Ma be recognized for his contributions to society and his work to create innovative enterprises that have worldwide influence, the university said.
Comments will be moderated. Keep comments relevant to the article. Remarks containing abusive and obscene language, personal attacks of any kind or promotion will be removed and the user banned. Final decision will be at the discretion of the Taipei Times.