Tsai 'in difficult spot' on US visit: US think tank
Democratic Progressive Party (DPP) Chairperson Tsai Ing-wen (蔡英文) "will have her work cut out for her" when she arrives in Washington tomorrow, foreign policy experts at the American Enterprise Institute (AEI) think tank said in a report.
"Tsai is undoubtedly in a difficult spot," AEI research fellow Michael Mazza and AEI director of security studies Gary Schmitt said.
In a paper titled Taiwan's Eternal Dilemma, they said Tsai's task is "particularly tricky" because she must convince Washington that, as president, she would not pursue de jure independence while being careful not to stray too far from her party's pro-independence leanings.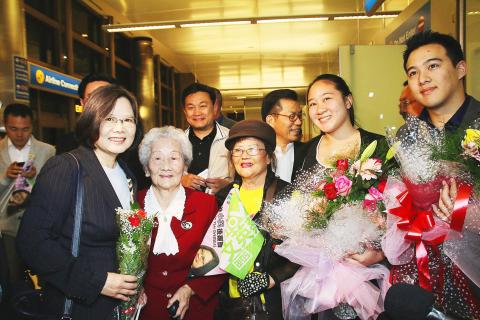 Democratic Progressive Party Chairperson Tsai Ing-wen, left, holds flowers that were presented to her by 102-year-old Huang Tsai Jui-yun, second left, as Tsai is welcomed at Los Angeles International Airport yesterday.
Photo: Chen Hui-ping, Taipei Times
Tsai is on a 12-day tour of the US and is to be in Washington from tomorrow until Friday to meet with officials from US President Barack Obama's administration, members of the US Congress and think tank experts.
Mazza and Schmitt say that whether her visit is a success will "not be entirely up to her."
They said that the Chinese Communist Party (CCP) is trying to shape US relations with Tsai and that Beijing would pounce on any remarks from her that suggest a divergence from Taipei's current "conciliatory approach" to China.
When Tsai visited Washington during her previouos presidential campaign, an anonymous senior US official damaged her image by making derogatory remarks to the press.
Senior members of the Obama administration have promised that would not happen again.
However, according to Mazza and Schmitt, "she has reason to worry that a less-than-amicable reception might be in store for her in what should be the friendliest of foreign capitals."
They said that Tsai's best bet to ensure the visit is a success might be to make the case that cross-strait relations are not nearly as stable as they appear.
She could argue that she has a realistic understanding of how far and how quickly Taiwan's domestic politics will allow ties with China to advance, they said.
A policy based on such an assessment is the most likely to avert miscalculations and unrealistic expectations in Beijing — thus contributing to greater stability.
"Still, the onus is on the Obama administration to avoid taking sides in Taiwan's presidential election, as it did so publicly in 2011," Mazza and Schmitt said.
"The United States should value its democratic partners precisely because they are democratic. Undermining the democratic processes in friendly states will only serve to undermine, over the long-term, a US foreign policy that supposedly favors freedom's global advance," they said.
The DPP Washington office issued a statement on Friday saying that during her visit, Tsai would "highlight a comprehensive list of key policies" ranging from defense, the economy and trade to Taiwan's international participation and cross-strait relations.
A paper published by the Jamestown Foundation on the eve of Tsai's visit said that China might be preparing for a "more heavy-handed approach" to Taiwan in the event of a DPP victory in January next year.
The paper said that Beijing may have "accepted the fact" that the Chinese Nationalist Party (KMT) "will likely lose."
As a result, it says, China may be ready to "switch its hand from a carrots approach to a stick one."
Tsai arrived in Los Angeles on Friday on the first leg of her six-city US tour as the party's 2016 presidential candidate.
Tsai was greeted by more than 100 supporters at the airport.
Tsai, who also visited Los Angeles during her 2012 presidential campaign, said she is more experienced and better-prepared this time than four years ago and that she believes her talks with Taiwanese expatriates and various other people in the US would produce better results.
She said Los Angeles was chosen as the first leg of her tour because the city is home to the largest number of Taiwanese expatriates in the US.
Additional reporting by CNA
Comments will be moderated. Keep comments relevant to the article. Remarks containing abusive and obscene language, personal attacks of any kind or promotion will be removed and the user banned. Final decision will be at the discretion of the Taipei Times.