Pyongyang rejects hacking charge as US pledges 'reply'
North Korea said US accusations that it was involved in a cyberattack on Sony Pictures were "groundless slander" and that it wanted a joint investigation into the incident with the US.
An unnamed spokesman of the North Korean Ministry of Foreign Affairs said there would be "grave consequences" if Washington refused to agree to the joint probe, the official Korean Central News Agency reported yesterday.
On Friday, US President Barack Obama blamed North Korea for the devastating cyberattack, which led to the Hollywood studio canceling The Interview, a comedy on the fictional assassination of North Korean leader Kim Jong-un. He pledged that the US would respond "in a place and manner and time that we choose."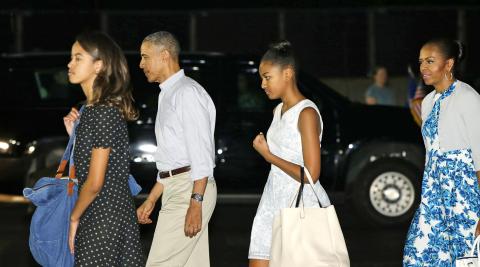 From left, Malia Obama, US President Barack Obama, Sasha Obama and first lady Michelle Obama arrive for their annual Christmas and New Year vacation in Honolulu, Hawaii, on Friday.
Photo: Reuters
In its first substantive response to the accusation, North Korea said it could prove it had nothing to do with the attack.
"We propose to conduct a joint investigation with the US in response to groundless slander being perpetrated by the US by mobilizing public opinion," the North Korean spokesman said. "If the US refuses to accept our proposal for a joint investigation and continues to talk about some kind of response by dragging us into the case, it must remember there will be grave consequences."
Earlier, the US FBI announced that it had determined that North Korea was behind the hacking of Sony, saying Pyongyang's actions fell "outside the bounds of acceptable state behavior."
Obama said North Korea appeared to have acted alone.
It was the first time the US had directly accused another nation of a cyberattack of such magnitude on US soil and set up a possible new confrontation between Washington and Pyongyang.
Sony Pictures Entertainment chief executive Michael Lynton insisted the company did not capitulate to hackers and said it is still looking for alternative platforms to release The Interview.
A Sony spokeswoman said earlier in the week that the company did not have further release plans for the US$44 million film starring Seth Rogen and James Franco.
Despite Obama's stern warning to North Korea, his options for responding to the computer attack by the impoverished state appeared limited. The president declined to be specific about any actions under consideration.
Comments will be moderated. Keep comments relevant to the article. Remarks containing abusive and obscene language, personal attacks of any kind or promotion will be removed and the user banned. Final decision will be at the discretion of the Taipei Times.