Research vessel flounders off Penghu
Ocean Researcher V, the nation's largest maritime research vessel, was involved in an accident at sea near Penghu County's Longmen District (龍門) yesterday evening.
Approximately three-quarters of the ship was under water at 8pm, and, at press time last night, 37 people out of the 45 onboard the vessel had been accounted for.
The Coast Guard Administration said it had requested air support for a search and rescue mission.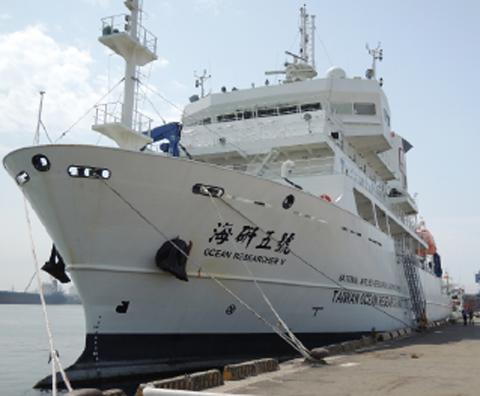 This is an undated of Ocean Researcher V.
Photo: Taipei Times
It first attempted to rescue personnel in the water using suspended cradles, but wind fouled the rescuers' efforts.
Ocean Researcher V is the property of the Ministry of Science and Technology, which loans it to approved research laboratories.
Entirely homemade, the 2,700-tonne vessel is 72.6m in length, 15.4m wide and can travel at 12 knots per hour (22kph).
Comments will be moderated. Keep comments relevant to the article. Remarks containing abusive and obscene language, personal attacks of any kind or promotion will be removed and the user banned. Final decision will be at the discretion of the Taipei Times.