Officials reject Xi Jinping's 'solution'
'ONE COUNTRY, TWO SYSTEMS': DPP legislators excoriated Chinese President Xi Jinping for his stance on cross-strait 'unification' and solving the 'Taiwan problem'
The government cannot accept the so-called "one country, two systems" arrangement described by Chinese President Xi Jinping (習近平) as Beijing's solution to solving the "Taiwan problem," Premier Jiang Yi-huah (江宜樺) said yesterday.
During a meeting with pro-unification groups from Taiwan led by New Party Chairman Yok Mu-ming (郁慕明) in Beijing yesterday morning, Xi said that "peaceful unification and the 'one country, two systems' policy are [China's] basic guidelines for solving the 'Taiwan problem.'"
It was the first time Xi discussed China's "one country, two systems" framework with visitors from Taiwan since he took office in November 2012.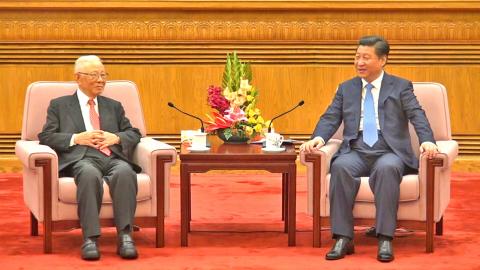 Chinese President Xi Jinping, right, meets with pro-unification New Alliance Association chairman Hsu Li-nung in Beijing yesterday.
Photo: CNA
Xi emphasized that "unification" would be "an end to the political standoff, rather than about rebuilding territory or sovereignty."
He also slammed the movement for Taiwanese independence.
Democratic Progressive Party (DPP) legislators berated Xi's remarks, saying that Hong Kong's example shows that the proposed system is already a failure.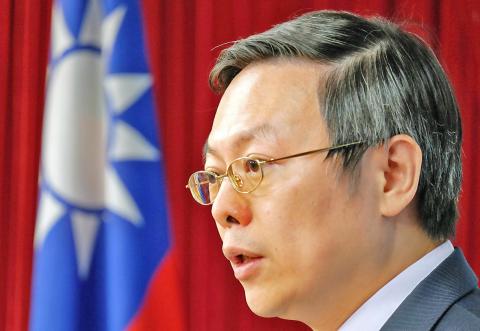 Mainland Affairs Council minister Wang Yu-chi said the government cannot accept the so-called "one country, two systems" arrangement.
Photo: AFP
"What's happening in Hong Kong now shows that 'one country, two systems' is a failure. Beijing should try to solve the problems in Hong Kong first, because its handling of the political situation in Hong Kong is a slap in its own face," DPP caucus whip Tsai Chi-tsang (蔡其昌) said in the legislature.
"Before talking about 'one country, two systems,' Beijing had better ask how Hong Kongers feel about it first," Tsai said.
DPP Legislator Chen Chi-mai (陳其邁) said that he suspected that Xi was responding to Ma's erroneously reported call for eventual "unification" under the German model.
The Presidential Office said on Thursday that a Chinese-language report by Deutsche Welle was a misrepresentation of President Ma Ying-jeou's (馬英九) interview with several European media outlets.
"The Chinese Communist Party [CCP] and the Chinese Nationalist Party [KMT] apparently give each other support to attract pro-
unification, pan-blue camp supporters," Chen said. "But it is not going to succeed, as most Taiwanese would not buy it."
Academia Sinica assistant research fellow Huang Kuo-chang (黃國昌), who is also one of the leaders of the Sunflower movement, called Xi's remarks "ridiculous," saying they are only suitable to "slaves wanting to gain favor with the CCP and should not be made public."
"We understand that different people might have different interpretations of history, but China must not overlook the universal values of democracy and rule of law," DPP spokesperson Huang Di-ying (黃帝穎) said. "Taiwanese insist on making cross-strait exchanges only on the basis of democracy, freedom and the rule of law. The DPP insists that the future of Taiwan should be decided solely by its 23 million citizens."
Jiang, responding to DPP Legislator Kuan Bi-ling's (管碧玲) questions on the matter during a legislative question-and-answer session, said that the Republic of China (ROC), as a sovereign country, has never deemed the "one country, two systems" formula acceptable.
Mainland Affairs Council Minister Wang Yu-chi (王郁琦) said the call for peaceful "unification" has long been the Chinese government's directive, but it has drawn public attention this time because it was the first time since Xi took office that he mentioned it before Taiwanese visitors.
"Of course we do not agree with it," Wang said. "We would reiterate our position [to the Chinese government] on an appropriate occasion."
Kuan asked Jiang whether he agrees that the territory of the ROC is confined to Taiwan, Penghu, Kinmen and Matsu.
Jiang rephrased the question by replacing "territory" with "effective rule."
KMT Legislator Lu Hsueh-chang (呂學樟) asked Jiang whether Xi was "expressing goodwill" and "recognizing our sovereignty and territory" when he said that "unification" would not be a reinstitution of sovereignty.
Wang said it would require further observation to determine whether the Chinese government is really "expressing goodwill."
Presidential Office spokesperson Ma Wei-kuo (馬瑋國) told reporters that the ROC is a 103-year-old sovereign state, and both the government and the people would not accept the "one country, two systems" framework.
In related news, the Chinese-language China Times newspaper published a report before Xi met the group from Taiwan, citing a source as saying that Xi might "reveal a certain message during the meeting," which, according to a Chinese academic, would probably be a decision on a meeting between Xi and Ma.
According to Xi's speech released by Xinhua news agency, he did not mention such a meeting.
Comments will be moderated. Keep comments relevant to the article. Remarks containing abusive and obscene language, personal attacks of any kind or promotion will be removed and the user banned. Final decision will be at the discretion of the Taipei Times.