Ukraine braces for Crimean vote as violence flares
Ukraine braced yesterday for a breakaway vote in Crimea as deadly violence flared again in the ex-Soviet country's tinderbox east amid the biggest East-West showdown since the Cold War.
The second successive day of deadly unrest that has claimed at least three lives in the mainly Russian-speaking east came hours after Moscow — its forces already in control of Crimea and conducting snap drills at Ukraine's eastern border — warned that it reserved the right to "protect" compatriots throughout its neighbor.
US Secretary of State John Kerry had on Friday failed to either avert today's ballot in Crimea or win Russian Minister of Foreign Affairs Sergei Lavrov's assurance that Moscow may delay annexing the Black Sea region that Ukraine received as a "gift" from then-Soviet leader Nikita Khrushchev in 1954.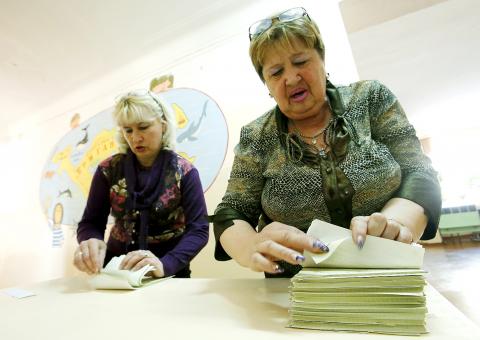 Election commission officials count ballots ahead a referendum at the polling station in the Crimean town of Simferopol yesterday.
Photo: Reuters
The rugged peninsula of 2 million mostly Russian speakers is widely expected to vote to split from Ukraine and join Russia after its lawmakers declared independence from Kiev earlier this month.
The referendum comes in direct response to three months of deadly protests which on Feb. 22 toppled the pro-Kremlin former president and brought to power a new nationalist European-leaning team in Kiev, infuriating Moscow, which views Ukraine as its strategic sphere of influence and wants to retain influence over its former Soviet satellite.
Kiev has denounced the Crimean vote as illegal, but is also warily watching as similar separatist sentiments are being fanned by Moscow supporters in other industrial regions in mostly Russian-speaking eastern Ukraine, which has deep cultural and trade ties to Russia.
Yet Moscow — whose troops took effective control of Crimea in the days after the Ukrainian president's Feb. 22 fall — strongly backs the referendum, despite a new round of painful sanctions against top Russian officials that Washington and EU nations are expected to unveil tomorrow.
Ukrainian Prime Minister Arseniy Yatsenyuk said he expected to sign in Brussels on Friday the political portion of an historic EU Association Agreement, whose rejection in November last year by the deposed government sparked the initial Kiev unrest.
Comments will be moderated. Keep comments relevant to the article. Remarks containing abusive and obscene language, personal attacks of any kind or promotion will be removed and the user banned. Final decision will be at the discretion of the Taipei Times.