Japanese PM's visit to shrine sparks uproar
SENSITIVE MATTER: Both China and South Korea said the visit could harm their ties with Japan, while the Minister of Foreign Affairs urged calm at a tense time
Japanese Prime Minister Shinzo Abe visited a shrine yesterday that is seen by critics as a symbol of Tokyo's wartime aggression, infuriating China and South Korea, and prompting concern from the US about deteriorating ties between the North Asian neighbors.
China and South Korea have repeatedly expressed anger in the past over Japanese politicians' visits to the Yasukuni Shrine, where Japanese leaders convicted as war criminals by an Allied tribunal after World War II are honored along with those who died in battle.
The two countries have been especially touchy about visits to the shrine by serving Japanese prime ministers, and Abe is the first leader in office to pay homage at Yasukuni in the past seven years.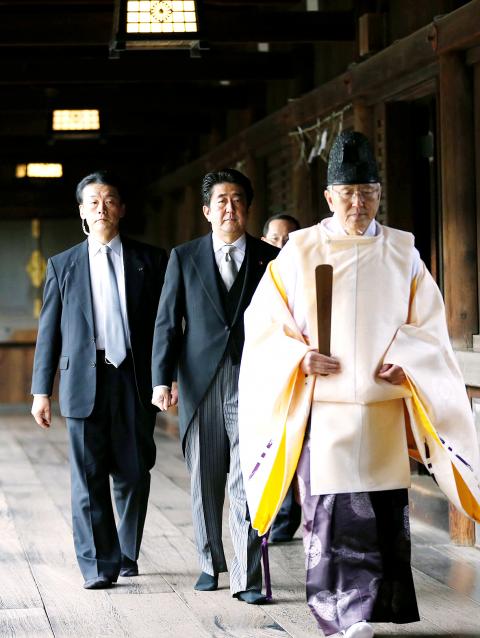 Japan's Prime Minister Shinzo Abe, center, is led by a Shinto priest as he visits Yasukuni shrine in Tokyo yesterday.
Photo: Reuters
Business ties between China and Japan, the world's second and third-largest economies, have improved after a downturn sparked by a flare-up last year in a row over tiny East China Sea islands controlled by Japan, but also claimed by Taiwan and China.
However, worries are growing that an unintended incident between Japanese and Chinese aircraft, and ships near the disputed isles, could escalate into a military clash.
Abe, a conservative who took office for a second term exactly one year ago, said he did not intend to hurt feelings in neighboring nations.
"There is criticism based on the misconception that this is an act to worship war criminals, but I visited Yasukuni Shrine to report to the souls of the war dead on the progress made this year and to convey my resolve that people never again suffer the horrors of war," he said after the visit.
Television carried live video of his motorcade making its way to the shrine, built in 1896 by Emperor Meiji to enshrine war dead.
Stressing that it was natural for a nation's leader to pay respect to those who died for their country, Abe said he shared the view of past Japanese leaders that ties with China and South Korea were important, and to make them firm was in Japan's national interests — and said that he would like to explain that if given the opportunity.
Minister of Foreign Affairs David Lin (林永樂) yesterday said he "profoundly regrets" that Abe paid tribute at the controversial shrine, saying that he found the move "unacceptable."
"We hope Japan can face up to the facts of history and refrain from engaging in acts that hurt the feelings of its neighbors," Lin said.
The minister added that Japan should learn lessons from the past and develop cordial relationships with its neighbors in a responsible manner.
In a statement, the ministry urged all concerned parties to keep their composure at a time when tensions have risen in the East China Sea and reiterated the government's call for all actors involved to respond positively to President Ma Ying-jeou's (馬英九) East China Sea peace initiative, to jointly make efforts to advance peace and stability in the region.
Chinese Minister of Foreign Affairs Wang Yi (王毅) said Abe's action had pushed Japan in an "extremely dangerous" direction.
"Japan must bear full responsibility for the serious political consequences," the foreign ministry's Web site quoted Wang as telling the Japanese ambassador to China, who was summoned to the ministry.
A commentary by state-run news agency Xinhua added: "Choosing a sensitive time to visit a highly controversial and notorious place, Abe knows perfectly what he is doing and the consequences. Instead of a pledge against war, as Abe has claimed, the visit is a calculated provocation to stoke further tension."
South Korea termed the visit a deplorable and anachronistic act that damaged ties between the two countries, and summoned a top Japanese diplomat in Seoul to protest.
"We cannot withhold regret and anger over the visit," South Korean Minister of Culture, Sports and Tourism Yoo Jin-ryong said.
Washington also expressed disappointment.
"Japan's leadership has taken an action that will exacerbate tensions with Japan's neighbors," a US embassy statement in Tokyo said.
"The United States hopes that both Japan and its neighbors will find constructive ways to deal with sensitive issues from the past, to improve their relations, and to promote cooperation in advancing our shared goals of regional peace and stability," the statement added.
Additional reporting by Shih Hsiu-chuan
Comments will be moderated. Keep comments relevant to the article. Remarks containing abusive and obscene language, personal attacks of any kind or promotion will be removed and the user banned. Final decision will be at the discretion of the Taipei Times.