Fukushima water storage 'sloppy': nuclear watchdog
Nuclear watchdog inspectors who toured Japan's crippled Fukushima Dai-ichi nuclear power plant following the discovery of a huge radioactive leak declared yesterday that water storage at the site was "sloppy."
Earlier this week about 300 tonnes of radioactive liquid is believed to have escaped from one of the hundreds of tanks holding liquid used to cool the broken reactors, in an episode dubbed the most serious in nearly two years.
"I can't help but say it was sloppy," said Nuclear Regulation Authority committee member Toyoshi Fuketa of Tokyo Electric Power Co's (TEPCO) management of contaminated water, according to Jiji Press.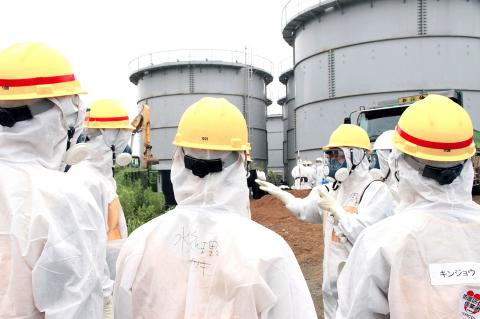 Japan's nuclear watchdog members, including Nuclear Regulation Authority members in radiation protection suits, inspect contaminated water tanks at the Tokyo Electric Power Co (TEPCO) Fukushima Dai-ichi nuclear power plant in the town of Okuma, Fukushima prefecture yesterday.
Photo: AFP
Fuketa was part of a 15-member team, including experts on radiation and water flow, who visited the wrecked power station to see for themselves how the polluted water had escaped.
The one-day inspection finished late yesterday, an agency official said.
"We will analyze results of the inspection and discuss them at a working group next week," the official said. "We may carry out further on-site inspections if necessary."
TEPCO said the leak may have carried radioactive materials out to sea.
Groundwater that has mixed with polluted water has already seeped into the ocean, with the company launching an operation to pump it out of 28 wells, it said yesterday.
On Thursday workers looking for other holed tanks found two areas near other containers where radiation was unexpectedly high, although they could see no leaks.
A catalogue of mishaps, often accompanied by a perceived unwillingness to publicly reveal the extent of problems, is leading to a growing chorus warning of the need for outside experts to step in and take control of the cleanup operation.
Comments will be moderated. Keep comments relevant to the article. Remarks containing abusive and obscene language, personal attacks of any kind or promotion will be removed and the user banned. Final decision will be at the discretion of the Taipei Times.