Bhutto-case prosecutor shot dead
Gunmen killed Pakistan's lead prosecutor investigating the assassination of former Pakistani prime minister Benazir Bhutto as he was driving to court yesterday, throwing the case that also involves former Pakistani president Pervez Musharraf into disarray.
Chaudhry Zulfikar was at the helm of a number of highly controversial cases, including the 2007 Bhutto assassination in which Musharraf is accused of involvement. He was also prosecuting militants linked to the 2008 terror attack in the Indian city of Mumbai.
Zulfikar was on his way to a court in Rawalpindi, next to Islamabad, when gunmen fired at him, hitting him in the head, shoulder and chest, and then fled in a taxi and on a motorcycle, police officer Arshad Ali said. The prosecutor was shot at least 13 times and his car was pockmarked with bullets and the windshield shattered.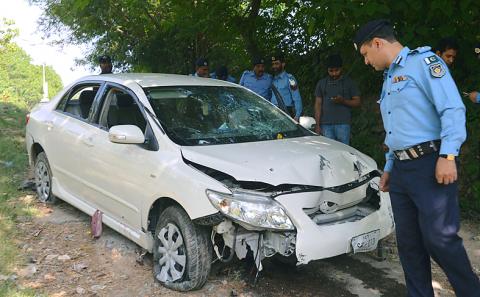 Pakistani police examine the bullet-riddled car of slain prosecutor Chaudhry Zulfikar after an attack by gunmen in Islamabad yesterday.
Photo: AFP
He then lost control of his car, which hit a woman passerby and killed her, another police officer Mohammed Rafiq said.
Zulfikar's guard, Farman Ali, returned fire and is believed to have wounded at least one of the attackers, Rafiq said. Ali also was injured in the attack. Police have launched a search to find and apprehend the gunmen.
A motive for the killing was unclear, but Zulfikar's involvement in the two high-profile cases will likely be scrutinized closely.
Government prosecutors have accused Musharraf of being involved in the Bhutto assassination and not providing enough security to Pakistan's first female prime minister. Musharraf, who was in power when Bhutto was killed, has denied the allegations. At the time of the attack, he blamed the assassination on the Pakistani Taliban.
The prosecutor told reporters that he had received death threats recently in connection with the case, but would not say who from.
Zulfikar was also the government's lead prosecutor in a case related to the 2008 terrorist attack on the Indian city of Mumbai that killed 166 people. The attack was blamed on the Pakistan-based militant group Lashkar-e-Taiba.
Musharraf is under house arrest on the outskirts of Islamabad in connection with several cases against him, including the Bhutto case. He also faces allegations of treason before the Supreme Court.
Meanwhile, a candidate running for parliament in next week's historic election was shot dead yesterday along with his three-year-old son after praying in a mosque in Karachi, police said.
Saddiq Zaman Khattak was a businessman and a candidate for the Awami National Party (ANP), the leading secular party in Pakistan's ethnic Pastun northwest.
It is the first time that a national assembly candidate has been killed in Pakistan's election campaign. Campaigning has been marred by Taliban threats and attacks, which have killed 62 people since April 11, according to an AFP tally.
The May 11 polls for the national and regional assemblies mark the first time that a civilian government completes a full term and hands over to another at the ballot box, in a country that has been ruled by the military for half its existence.
Comments will be moderated. Keep comments relevant to the article. Remarks containing abusive and obscene language, personal attacks of any kind or promotion will be removed and the user banned. Final decision will be at the discretion of the Taipei Times.