Taipei City admits H7N9 negligence
SERIOUS LAPSE: The Huanan market will do all of Taipei's slaughtering of live poultry from May 17, but its workers were filmed using seemingly no preventative measures
Taipei City's Market Administration Office yesterday acknowledged its negligence over enforcing preventative measures against the H7N9 avian influenza at Huanan Public Market, after a Democratic Progressive Party (DPP) Taipei City councilor released a video clip showing workers collecting duck feathers with their bare hands, and dead chickens in the market's parking lot.
The office promised to instruct workers and vendors to follow measures to prevent avian flu.
The Huanan Public Market in Taipei's Wanhua District (萬華) will be responsible for all live poultry slaughtering in the city from May 17, when a ban on the slaughter of live poultry at traditional markets comes into effect.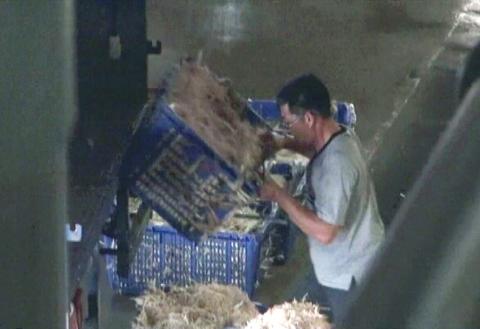 Taipei City Councilor Tung Chung-yen yesterday released a photo showing workers collecting duck feathers with their bare hands at Huanan Public Market.
Photo courtesy of Taipei City Councilor Tung Chung-yen
DPP Taipei City Councilor Tung Chung-yen (童仲彥) inspected the market on April 30 and found that workers wore neither gloves nor masks when collecting the feathers of slaughtered ducks. On the fourth floor, dead chickens were found in cages without any protection measures in place, while no sterilization pools were placed in the parking lots to keep dead chickens, as required.
"We can see vendors, workers and regular people moving around the market without gloves or masks, and no protection measures at all have been implemented. The market should be a model for the city's bird flu prevention campaign, but has become a big loophole in the effort," Tung said at the Taipei City Council.
Kao Chun-chien (高群荐), a divisional chief at the office, said the duck feathers were rinsed under water heated to 90oC for one minute before being collected, and should not be able to transmit any viruses.
He acknowledged that the market did not instruct workers to wear gloves and masks as standard procedure when handling poultry amid threats of an H7N9 avian influenza outbreak, and promised to enhance bird flu prevention measures.
"The duck feathers should not carry any contagious agents, but we should be more cautious at the moment. We will instruct the market to follow strict procedures, and demand that all workers wear masks and gloves," he said.
Taipei Livestock Products Marketing Corp (台北畜產運銷公司) general manager Wang Shun-sheng (王舜生) said the body will ask vendors and other livestock businesses to cooperate with the measures' implementation.
The corporation will ban vendors from entering the market if they fail to follow standard procedures, he said.
The city will from May 17 send all live poultry to the Huanan market, which has 14 slaughtering lines, to handle the large amount of poultry slaughter.
According to the office, between 50,000 and 60,000 birds are slaughtered in the city every day. Of these, between 20,000 and 30,000 birds are slaughtered at the Huanan market.
Vendors who insist on selling live poultry after May 17 will be fined for violating the Animal Industry Act (畜牧法).
Comments will be moderated. Keep comments relevant to the article. Remarks containing abusive and obscene language, personal attacks of any kind or promotion will be removed and the user banned. Final decision will be at the discretion of the Taipei Times.